The oil "war" between Iran and America "beats" its drums and the last in front of the decision to "freeze" the assets of the Iranian Revolutionary Guard
Arabic and International  Thursday, 05 July 2018 at 13:03 (Views 1094)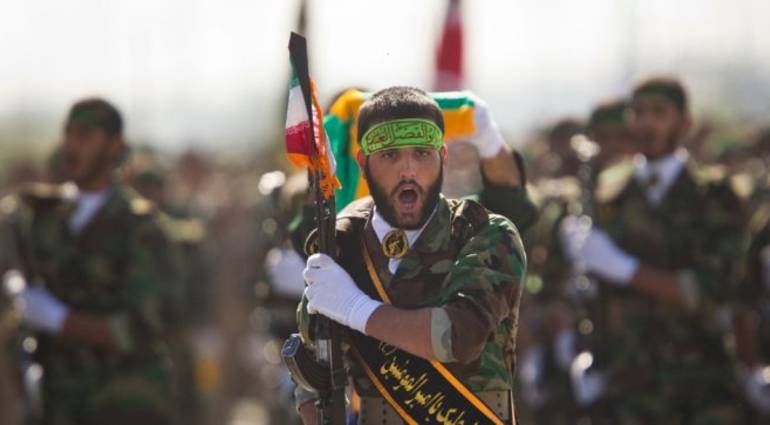 The oil "war" between Iran and America "beats" its drums and the last in front of the decision to "freeze" the assets of the Iranian Revolutionary Guard
Follow-up / Sky Press
The United States aims to reduce Tehran's oil revenues to zero, in an effort to push the Iranian leadership to change its behavior in the region, "said US State Department Chief Political Adviser Brian Hawke. The US administration's Donald Trump chose the economic war against the Tehran regime instead About the military war.
The sentence also shows that oil, which is Iran's third largest source in the Organization of the Petroleum Exporting Countries (OPEC), exporting about two million barrels of crude per day, will be the "fuel" of the next war.
On July 3, Iranian President Hassan Rowhani said that the United States would not be able to cut its oil revenues to zero, and hinted that his country would block the passage of oil shipments from neighboring countries if Washington continued to push all States to stop their purchases of Iranian oil. "It makes no sense to allow neighboring countries to export oil and not allow Iran to do so," he said.
Iranian officials have already threatened to close the Strait of Hormuz, a major oil shipping route, in response to any US hostile action against Iran. This strait is the most important global corridor for the passage of oil to the world.
Rowhani said a hint turned on July 4 into a clear threat. "Iran's Revolutionary Guard is ready to implement a policy that would prevent regional oil exports if Iran's crude sales are banned," Iranian Revolutionary Guards Corps commander Qassim Soleimani was quoted by official Iranian news agencies as saying.
Suleimani's threats come at a time when the US administration is considering the option of classifying Iran's Revolutionary Guards as a terrorist group.
Sources close to the ruling circles say the White House has been considering the decision for months and US Secretary of State Mike Pompeo supports it, but no final agreement has yet been reached.
Such a decision would allow the White House to freeze the assets of the Iranian Revolutionary Guard and impose a travel ban on its members, as well as impose criminal sanctions in parallel with existing economic sanctions.
http://www.skypressiq.net/2018/7/5/%D8%A7%D9%84%D8%AD%D8%B1%D8%A8-%D8%A7%D9%84%D9%86%D9%81%D8%B7%D9%8A%D8%A9-%D8%A8%D9%8A%D9%86-%D8%A5%D9%8A%D8%B1%D8%A7%D9%86-%D9%88%D8%A3%D9%85%D8%B1%D9%8A%D9%83%D8%A7-%D8%AA%D8%AF%D9%82-%D8%B7%D8%A8%D9%88%D9%84%D9%87%D8%A7-%D9%88%D8%A7%D9%84%D8%A7%D8%AE%D9%8A%D8%B1%D8%A9-%D8%A7%D9%85%D8%A7%D9%85-%D9%82%D8%B1%D8%A7%D8%B1-%D8%AA%D8%AC%D9%85%D9%8A%D8%AF-%D8%A7%D8%B1%D8%B5%D8%AF%D8%A9-%D8%A7%D9%84%D8%AD%D8%B1%D8%B3-%D8%A7%D9%84%D8%AB%D9%88%D8%B1%D9%8A-%D8%A7%D9%84%D8%A5%D9%8A%D8%B1%D8%A7%D9%86%D9%8A