Thai rescue teams finish rescue mission after 17 days
Arab and international  Tuesday July 10, 2018 at 18:46 pm (483 Views)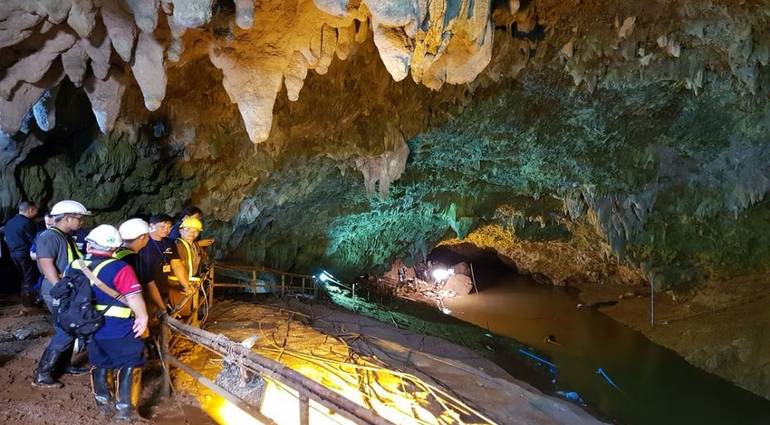 Thai rescue teams finish rescue mission after 17 days
Baghdad / Sky Press
Divers succeeded in taking 12 children and their coach for 17 days in a cave in northern Thailand after flooding.
The story of the stranded children, and their attempts to get them out of the cave, fascinated the world.
The Thai navy said a final group of four children and their coach were taken out on Tuesday to end the rescue operation.
The children, a football team, and their coach were trapped deep into a cave on June 23 after heavy rains hit the cave and blocked its exit.
Children between the ages of 11 and 17 are on a trip with the coach.
http://www.skypressiq.net/2018/7/10/%D9%81%D8%B1%D9%82-%D8%A7%D9%84%D8%A7%D9%86%D9%82%D8%A7%D8%B0-%D8%A7%D9%84%D8%AA%D8%A7%D9%8A%D9%84%D9%86%D8%AF%D9%8A%D8%A9-%D8%AA%D9%86%D9%87%D9%8A-%D9%85%D9%87%D9%85%D8%A9-%D8%A7%D9%86%D9%82%D8%A7%D8%B0-%D8%A3%D8%B7%D9%81%D8%A7%D9%84-%D8%A7%D9%84%D9%83%D9%87%D9%81-%D8%A8%D8%B9%D8%AF-17-%D9%8A%D9%88%D9%85%D8%A7-%D9%82%D8%B6%D9%88%D9%87%D8%A7-%D8%AF%D8%A7%D8%AE%D9%84%D9%87