Reducing Russian exports and reducing diplomatic representation .. US "sanctions" on Russia
Arabic and International  Thursday, 09 August 2018 at 14:31 PM (550 views)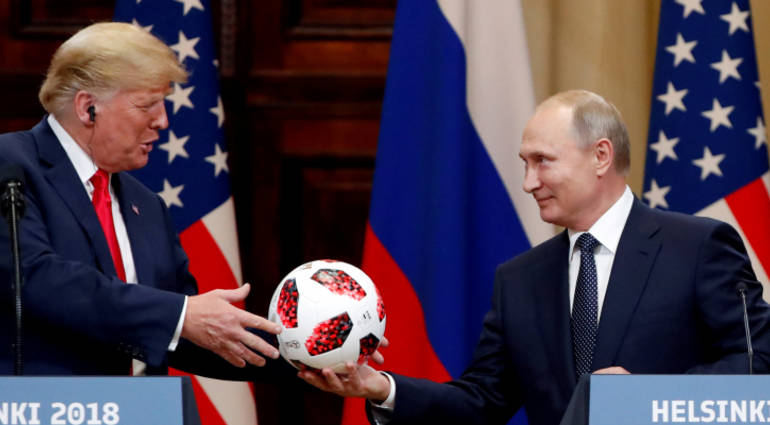 Reducing Russian exports and reducing diplomatic representation .. US "sanctions" on Russia
Follow-up / Sky Press
US plans to impose sanctions on Russia for using chemical weapons in the plot to poison the Russian double agent Sergey Scrippal in Britain.
The Associated Press reported that "the US administration confirms that Russia used a chemical weapon in poisoning the intelligence agent Scrippal." NBC News reported that US Secretary of State Mike Pompeo signed a resolution recognizing Russia's violation of international law by poisoning Sergey Scrippal and his daughter Yulia. According to the same network, the sanctions would be twofold: the first would limit Russian exports, Especially with regard to the sale of arms. The second part, according to the network itself, includes the reduction of diplomatic representation with Russia, the suspension of flights of Russian airline "Aeroflot" to the United States, and the reduction of exports and imports with Russia.
On March 4, 2018, the former Russian agent Sergey Scrippal and his daughter Yulia were subjected to a poisoning attempt in Britain using poison gas. Britain has accused Russia of trying to kill them using "nerve gas", a charge denied by Moscow, and said London refuses to be informed of the results of the investigation or involved in it.
A diplomatic crisis erupted between London and Moscow, resulting in reciprocal punitive measures, most notably the exchange of diplomats. Diplomatic sanctions have expanded to include many Western countries that have sided with Britain.
http://www.skypressiq.net/2018/8/9/%D8%A7%D9%84%D8%AD%D8%AF-%D9%85%D9%86-%D8%A7%D9%84%D8%B5%D8%A7%D8%AF%D8%B1%D8%A7%D8%AA-%D8%A7%D9%84%D8%B1%D9%88%D8%B3%D9%8A%D8%A9-%D9%88%D8%AE%D9%81%D8%B6-%D8%A7%D9%84%D8%AA%D9%85%D8%AB%D9%8A%D9%84-%D8%A7%D9%84%D8%AF%D8%A8%D9%84%D9%88%D9%85%D8%A7%D8%B3%D9%8A-%D8%B9%D9%82%D9%88%D8%A8%D8%A7%D8%AA-%D8%A7%D9%85%D8%B1%D9%8A%D9%83%D9%8A%D8%A9-%D8%B9%D9%84%D9%89-%D8%B1%D9%88%D8%B3%D9%8A%D8%A7