Dead Isis fighter's headcam video shows chaos and disorganisation at frontline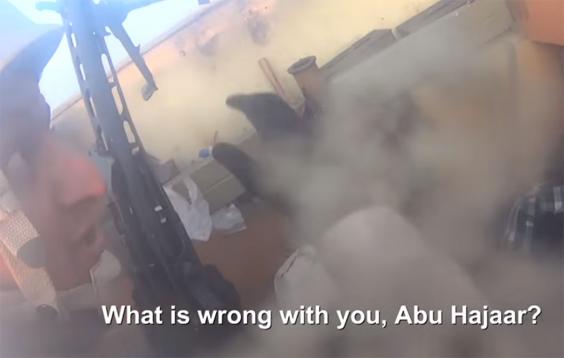 April 27, 2016
Vice News obtained a video which purports to show a group of Isis fighters in a battle north of Mosul Vice News
A video has emerged purporting to show Isis propaganda footage that was never intended for an international audience, with a bungling group of jihadists losing a battle against the Kurds in northern Iraq and retreating in chaos.
Vice News said it had obtained the video from the helmet-mounted camera of an Isis jihadist who died fighting the Peshmerga some 30 miles north of Mosul.
The video can not be independently verified, but it matches in style the multiple "headcam" clips released by Isis propaganda outlets in the past.
The new footage would have been captured with the intention of being used for propaganda itself - but uncut, it shows the panic, fear and disorganisation of life on the front line in the long-running conflict.
It starts with the depiction of a would-be suicide bomber saying goodbye to other fighters, before climbing into a large modified truck with blacked-out windows and Isis insignia daubed on the side.
The wearer of the headcam and three fellow fighters then leave for the front line, a field overlooked by Peshmerga positions in the hills, behind two other Isis vehicles with improvised armour.
The ensuing battle begins with a Peshmerga rocket hitting one of the trucks in front, before the Isis fighters begin returning fire.
The fighters can be seen struggling to use a range of weaponry, from what appears to be a German-made MG3 machine gun to a rocket launcher and an assortment of apparently homemade grenades.
They argue among themselves as the fight goes on, with both his colleagues complaining about the conduct of a militant they name as "Abu Hajaar".
And they are forced to try and retreat on foot when the front of the truck they are in is hit by a Peshmerga rocket, killing the driver.
It is unclear in what form the video was obtained by Vice News, and whether it was already edited by the Peshmerga themselves to make the Isis fighters look bad.
But it nonetheless appears to show a reality of the conflict on the front line in Iraq that is far removed from the idealised projections of Isis's own media output.
https://translate.googleusercontent.com/translate_c?depth=1&hl=en&rurl=translate.google.com&sl=ar&tl=en&u=http://www.independent.co.uk/news/world/middle-east/isis-headcam-video-abu-hajaar-fighter-chaos-disorganisation-at-frontline-a7004236.html&usg=ALkJrhhYSdxVX8bImvXDyExYjW0btyIQgA