[size=48]Isis cracks down on civilians in Mosul over rebellion fears ahead of Iraqi army offensive[/size]
Militants are using mass arrests and public executions to maintain control in the city before impending battle against Iraqi army and Kurdish Peshmerga forces 


Bethan McKernan Beirut 


Thursday 22 September 2016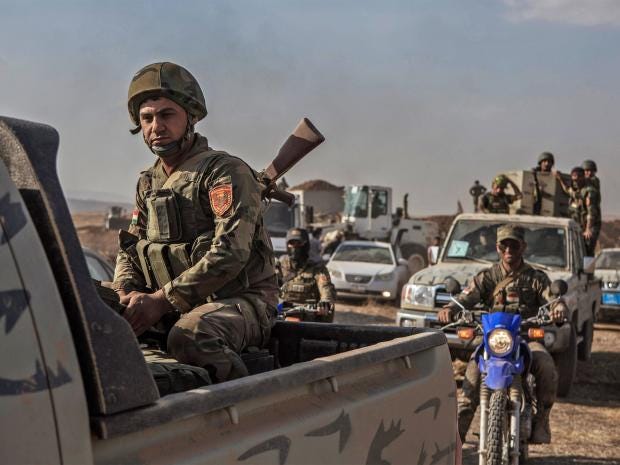 Kurdish Peshmerga forces move into Mosul's Mufti village after it was recaptured from Isis in May EPA
Isis has unleashed a new wave of arrests and executions on civilians in Mosul to rein in dissent ahead of upcoming coalition efforts to retake the Iraqi city, underground activists have said. 
More than 200 people have been arrested on charges of spying in the past few months, a Kurdish news agency reported, and 60 more were detained for refusing to observe Isis's ban on visiting the graves of relatives during the Eid-al-Adha festival last week, Iraqi army captain Amir Watheq told local media. 
Reports surfaced on Tuesday that three men had been publicly whipped for playing football, and three more accused of defying Isis rule by graffiting resistance symbols were shot in the head as punishment in a recent Isis propaganda video. 
A member of Kitaeb al-Mosul, an underground resistance group operating in the city, told theWashington Post that increasingly "methods of oppression like random arrests" are Isis's way of showing it still has control of the city, stamping down any signs of rebellion as coalition forces draw closer. 
Around two million people lived in Mosul, Iraq's second largest city, when it was seized from the Iraqi army by just 1,500 Isis militants in a surprise shock-and-awe attack in June 2014. Shortly afterwards, leader Abu Bakr al-Baghdadi declared the establishment of the so-called caliphate from a Mosul mosque. 
Iraqi Prime Minister Haider al-Abadi has vowed to retake Mosul from the extremist group by the end of the year, but the presence of so many civilians is a worry to security analysts who say it will complicate the upcoming offensive. Last week, the Iraqi air force dropped millions of leaflets in Mosul warning residents to prepare for the "zero hour".
Mr Abadi has called on residents to stand up to the group ahead of the military offensive.  "We ask the people of Mosul to shake up Daesh [Isis] and expel them from Mosul or kill them," he said. "This will ease the work of the security forces and reduce their casualties."
A joint operations command spokesperson told Reuters that contacts inside the city were helping to provide coordinates of key Isis locations, but they could not confirm the claim. Residents inside the city said that in the step up in arrests, several people with Iraqi army ties or family members had been targeted amid Isis fears the population will rise up as coalition forces advance. 
The Iraqi army and Kurdish Peshmerga units, backed by US support, have been making small gains on the city, retaking nearby villages and towns. In some areas Kurdish troops are now just 1km away from the Isis front line. 
Last week, a Kurdish commander estimated there are still 20,000 active Isis fighters in Mosul, whereas the US says the figure is around 3,000 – 5,000. 
Residents have said the group is prepared for battle with a well-established network of tunnels to conceal and move supplies, artillery and fighters. It is also building trenches, a moat, and sealing off certain districts using huge concrete blockades across main roads, Reuters reports. 
Isis has faced several military defeats in recent months, withdrawing from strongholds in northern Syria and the Iraqi city of Fallujah. Mosul is currently the largest city still under its control. 
http://www.independent.co.uk/news/world/middle-east/isis-cracks-down-on-civilians-in-mosul-over-rebellion-fears-ahead-of-iraqi-army-offensive-a7322371.html