An Israeli politician publishes photographs of his participation in a conference in Qatar
 Tuesday, 14 November 2017 at 09:47 AM (234 views)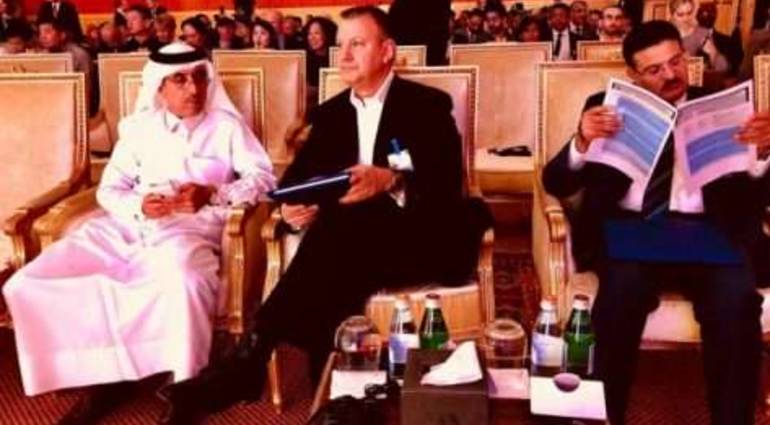 An Israeli politician publishes photographs of his participation in a conference in Qatar  
Follow-up / Sky Press:
Former Labor Party deputy Ariel Margalit published photographs of him during his current participation in the "Enriching the Economic Future in the Middle East" conference, which concludes today in Doha, Qatar.
"Israel must be a leader in economic cooperation in the region," the Israeli politician commented on the pictures, according to the Hebrew source.
"He sits next to representatives of Arab countries in a week of international hi-tech initiatives in Doha, and the common goal is to find ways to promote joint cooperation between Israel and the Arab world," he said in a leaflet on his Facebook page.
Margalit, who had been a candidate for the chairmanship of the Labor Party, confirmed that he was convinced at the conference that the key to any settlement in the region would be through economic cooperation, after hearing and speaking with dozens of entrepreneurs and leaders from Arab, European and American countries in the field of hi-tech.
 "Israeli modernity and the ability of invention can be a solid bridge to change the reality in the region. Common interests create new opportunities, and we should not miss them," Margalit wrote earlier on his Facebook page.
http://www.skypressiq.net/2017/11/14/%D8%B3%D9%8A%D8%A7%D8%B3%D9%8A-%D8%A5%D8%B3%D8%B1%D8%A7%D8%A6%D9%8A%D9%84%D9%8A-%D9%8A%D9%86%D8%B4%D8%B1-%D8%B5%D9%88%D8%B1%D8%A7-%D9%85%D9%86-%D9%85%D8%B4%D8%A7%D8%B1%D9%83%D8%AA%D9%87-%D9%81%D9%8A-%D9%85%D8%A4%D8%AA%D9%85%D8%B1-%D8%A8%D9%82%D8%B7%D8%B1