LET EVERYONE YOU KNOW WHO LIVES ON THE WEST COAST SO THEY CAN BE PREPARED AND PRAY
Category:
World News
Thursday, 17 May 2018 20:26
70 Comments
This web site was among the very first to begin warning folks in Hawaii and on the west coast of North America, that a portion of Hawaii's southern coastline, was in danger of collapsing into the ocean from the ongoing eruption of the Kilauea volcano.  If such a collapse took place, it would cause a Pacific-wide TSUNAMI, with waves of 99 feet tall possibly plowing into San Diego, Los Angeles, San Francisco and Vancouver, British Columbia CANADA, four to five hours after such a collapse takes place.
I was sharply ridiculed as a "fear-monger" and accused of "publishing nonsense."  I was told my reports were "fake news" and they were designed to be "click bait."  Well . . . guess what the Hawaii Volcano Observatory said about a Sea Cliff near Kilauea the last time large lava was spewing out as it is now.  Feast your eyes on this:
Kilauea Volcano's: "Lava flow is still active and entering the ocean at Kamokuna on the volcano's south coast.
Recent observations of the ocean entry indicate growing instability of the adjacent sea cliff.
A potential collapse of the cliff poses an extreme danger to anyone in the closed area on land, as well as to boats near the ocean entry. . .
The name of the unstable land mass on Kilauea's seaward side is the "Hilina Slump."
In the graphic below, the area in Yellow constitutes the Hilina Slump: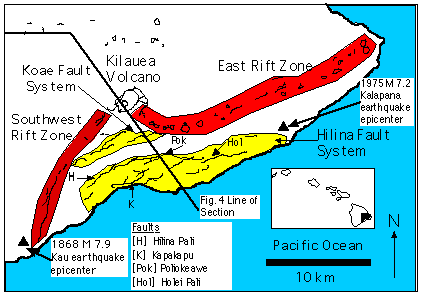 In a companion feature in the Feb. 28 issue of Nature, research geophysicist Steven N. Ward of the University of California-Santa Cruz estimated Kilauea's southern flank to be nearly equal in size to a half-mile-thick slice of Rhode Island. If that massive chunk of land suddenly collapsed into the ocean . . . it could generate an enormous wall of seawater -- or tsunami -- powerful enough to threaten coastal cities as far away as California, Chile and Australia, according to Ward.
A catastrophic flank collapse of an oceanic volcano happens somewhere in the world every 10,000 years on average, Ward added, but none has been caught in its early stages until now.
Below is a graphic from a computer simulation showing wave heights - in METERS - in two hour intervals after such a collapse takes place.   Please note that in the first circle, wave heights coming at the west coast of the United States are simulated at 62 METERS in height.  That's
two hundred and three FEET tall
, traveling toward the US west coast at about
five hundred miles per hour
.
In the second ring, at four hours, the simulation shows the approaching waves to be down to 42 METERS.  That's 138 FEET tall.
By the time the third ring begins smashing onto the west coast of North America, wave heights are somewhere between
42 and 30 METERS
. 
That means a wave of water AT LEAST NINETY EIGHT FEET TALL smashing into San Diego, Los Angeles and other places on the west coast.
Do you have any idea at all of the absolute destruction that would take place if a 98 feet tall wave slammed into San Diego, Los Angeles, San Francisco and Vancouver? 
The cities would be obliterated.
  Skyscrapers would be knocked over like toothpicks.  Homes would be knocked off their foundations and collapse.  NOWHERE would be safe unless people were farther inland than the water can travel.  
50 miles inland would be a very safe distance. 
DON'T PANIC --- PLAN 
It is important for me to reiterate that the purpose of this report and the ones which preceded it, is to ALERT YOU to the
POTENTIAL
danger, so you HAVE A PLAN.
Don't panic, PLAN!
Bear in mind,
THIS MAY NOT TAKE PLACE
. 
The volcano might stop erupting and all might be well.
HOWEVER . . . . prudence dictates that we be rational adults and keep aware of the potential danger from this ongoing situation.
To that end, I implore you:  Keep close watch on developments with the Hawaii eruption.  IF YOU HEAR WORD THAT A SEA CLIFF COLLAPSE HAS OCCURRED, EVACUATE.   Don't wait. 
The longer you wait, the more people are going to find out what's taking place.  PANIC will set in.  Think about it: there are 10 million people in Los Angeles, 1.4 million in San Diego,  865,000 in San Francisco and 2.4 MILLION in Vancouver. 
They would have four hours to escape to 50 miles inland or be killed.
  If you wait, more and more of those millions of people will have already started fleeing -- and maybe panicking.  The longer you wait, the more traffic and panicked people you'll have to deal with.
So keep alert, monitor the situation and have a plan for you and your family.  If a collapse takes place, know in advance where you're going and how you're getting there.
PLEASE PASS THIS ALONG TO ANYONE YOU KNOW WHO LIVES IN CALIFORNIA, OREGON, WASHINGTON state or VANCOUVER.  The mass-media is not reporting this for fear of "scaring people"
but the general public HAS TO KNOW
.  You telling them might save their lives!  Think about this for a second:  YOU . . . . . right now . . . . . have a chance to maybe save someone's life.  Just by passing along some info.  "Hey so and so, did you hear about that volcano in Hawaii?  (Yea)  Well today they're warning that a big chunk of the volcano might fall off into the ocean causing a Tsunami that might hit where WE/YOU Live with 98 foot waves!  (WHOA! )  Yea,  I'm going to send you a link to read about it.  You should read it, it might save your life.
Here is a link to my original article which sounded the Warning back on May 6:
In the meantime, I recommend you gas-up your car(s)/truck(s)
and keep a full tank
.  No one knows IF this is going to take place and no one knows WHEN this is going to take place.  You don't want to get rousted out of bed in the middle of the night being told to flee for your life,
and find out you've got no gas in the car
.  Throw a bag with some snacks and water in the back too, so you and your family can munch while you're evacuating.   Being prepared is simple, if you take a minute to do it in advance.  If you wait until all hell breaks loose, things will not go well.
GOOD LUCK. STAY SAFE.  
 UPDATE 11:47 PM EDT --
Here is the latest Report from the Hawaii Volcano Observatory: 
HAWAIIAN VOLCANO OBSERVATORY STATUS REPORT
U.S. Geological Survey
Thursday, May 17, 2018, 4:54 PM HST (Friday, May 18, 2018, 02:54 UTC)
KILAUEA VOLCANO
(VNUM
#332010
)
19°25'16" N 155°17'13" W, Summit Elevation 4091 ft (1247 m)
Current Volcano Alert Level: WARNING
Current Aviation Color Code: RED
,
Kīlauea Volcano Summit
After the explosive eruption early this morning seismic levels have been gradually increasing, but as of this report no additional explosions have occurred.
No earthquakes greater than magnitude 3.5 have occurred in the past day.
Volcanic gas emissions at the summit remain high.
Kīlauea Lower East Rift Zone
This afternoon, fissure 17 is still actively spattering but the flow is nearly stalled. In addition, fissures 18, 19, and 20 have reactivated and a new fissure (21) has opened between fissures 7 and 3. An area 50-100 yards wide, parallel to and north of the line of fissures between Highway 130 and Lanipuna Gardens, has dropped slightly. This long depression is currently being filled by pahoehoe lava flows from fissures 20 and 21.
Volcanic gas emissions remain elevated throughout the area downwind of the fissures.
Magma continues to be supplied to the lower East Rift Zone as indicated by the continued northwest displacement of a GPS monitoring station. Elevated earthquake activity continues, but earthquake locations have not moved farther downrift in the past couple of days.
USGS/HVO continues to monitor the lower East Rift Zone activity 24/7 in coordination with Hawaii County Civil Defense, with geologists onsite to track ongoing and new fissure activity and the advance of lava flows.
MORE INFORMATION
Activity Summary also available by phone: (808) 967-8862
Subscribe to these messages:
https://volcanoes.usgs.gov/vns2/
Webcam images:
https://volcanoes.usgs.gov/volcanoes/kilauea/multimedia_webcams.html
Photos/Video:
https://volcanoes.usgs.gov/volcanoes/kilauea/multimedia_chronology.html
Lava Flow Maps:
https://volcanoes.usgs.gov/volcanoes/kilauea/multimedia_maps.html
Definitions of terms used in update:
https://volcanoes.usgs.gov/volcanoes/kilauea/extra/definitions.pdf
Overview of Kīlauea summit (Halemaʻumaʻu) and East Rift Zone (Puʻu ʻŌʻō ) eruptions:
https://volcanoes.usgs.gov/volcanoes/kilauea/extra/background.pdf
Summary of volcanic hazards from Kīlauea eruptions:
https://volcanoes.usgs.gov/volcanoes/kilauea/extra/hazards.pdf
Recent Earthquakes in Hawai'i (map and list):
https://volcanoes.usgs.gov/hvo/earthquakes/
Explanation of Volcano Alert Levels and Aviation Color Codes:
https://volcanoes.usgs.gov/activity/alertsystem/index.php
https://pubs.usgs.gov/fs/2006/3139/
CONTACT INFORMATION:
askHVO@usgs.gov
The Hawaiian Volcano Observatory is one of five volcano observatories within the U.S. Geological Survey and is responsible for monitoring volcanoes and earthquakes in Hawai`i.
http://halturnerradioshow.com/index.php/news/world-news/2542-hawaii-finally-admitting-sea-cliff-collapse-danger-tsunami-danger