[size=32]At least 11 injured in shooting at bar in Thousand Oaks, California[/size]
Kim Hjelmgaard, USA TODAY
Published 3:37 a.m. ET Nov. 8, 2018 | Updated 4:44 a.m. ET Nov. 8, 2018
(Photo: AP)
At least eleven people were injured, including a sheriff's deputy, during a mass shooting at a bar in Southern California on late Wednesday. 
Authorities said shots were fired and people hit at the Borderline Bar & Grill, a country-western dance bar in Thousand Oaks, which is about 40 miles west of Los Angeles. 
The extent of the victims' injuries was not immediately clear. Hundreds of people were inside the bar when the shooting occurred, the Los Angeles Times reported.
Law enforcement and emergency crews flooded the scene and police urged the public to avoid the area. The perpetrator of the assault may still be at large.
"It's still a very active scene," said Capt. Garo Kuredjian of Ventura County police.
Officers at the scene said the gunman might have used smoke bombs in the incident, but authorities later said they could not confirm that. 
[ltr]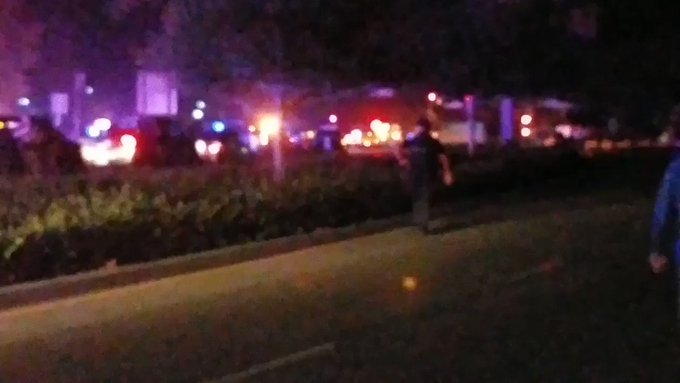 [/ltr]
Earlier eyewitness accounts suggested that the shooter, who may have dressed all in black with a large trench coat, threw a smoke grenade into the bar before opening fire with a semi-automatic weapon. Shots were still being fired when officers arrived on the scene.
Officers indicated that about 30 shots had been fired and that victims fled from the bar into the surrounding neighborhood.
The Borderline Bar & Grill describes itself on its website as the county's "Largest Country Dance Hall & Live Music Venue" with 2,500 square feet of open dance floor. It was reportedly college night at the venue when the shooting occurred.
Contributing: Ventura County Star staff
https://www.usatoday.com/story/news/2018/11/08/mass-shooting-borderline-bar-grill-thousand-oaks-southern-california/1927840002/
more articles at link
https://www.google.com/search?rlz=1C1GNAM_enUS686US686&ei=qgvkW4jlJ6W_jwS62rzQAQ&q=where+was+mass+shooting+california+bar+usa+nov+11th+2018&oq=where+was+mass+shooting+california+bar+usa+nov+11th+2018&gs_l=psy-ab.12...19386.27830..33747...0.0..0.106.1254.14j1......0....1..gws-wiz.......0i71j33i10.peljpk1aL1A