Marine dies from gunshot wound while on duty in DC
Josh Siegel
10 hrs ago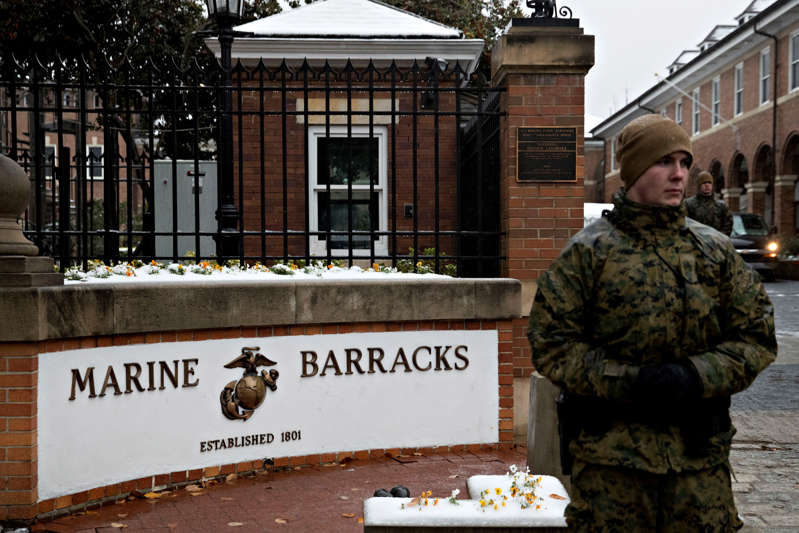 Getty WASHINGTON, DC - NOVEMBER 15: A Marine stands outside the Marine Barracks on November 15, 2018 in Washington, D.C. President Trump and the First Lady are meeting with Marines who responded to a building fire at the Arthur Capper Public Housing complex on September 9, 2018. (Photo by Andrew Harrer-Pool/ Getty Images) A U.S. Marine stationed in Washington, D.C., died on duty Tuesday from a gunshot wound.
The Metropolitan Police Department responded to the scene at the Marine Barracks early in the morning. The Corps did not provide the name of the victim, or provide additional information about how he died, since the incident is still being investigated.
The service said there's no threat to residents near the Barracks, which is located in Southeast D.C. and is the Corps' oldest active post.
"The command's priorities are to take care of the Marine's family and friends," said Col. Don Tomich, commanding officer of Marine Barracks. "We want to ensure these personnel are being provided for during this challenging time."
http://www.msn.com/en-us/news/us/marine-dies-from-gunshot-wound-while-on-duty-in-dc/ar-BBRGUle?li=BBnb7Kz&ocid=U453DHP