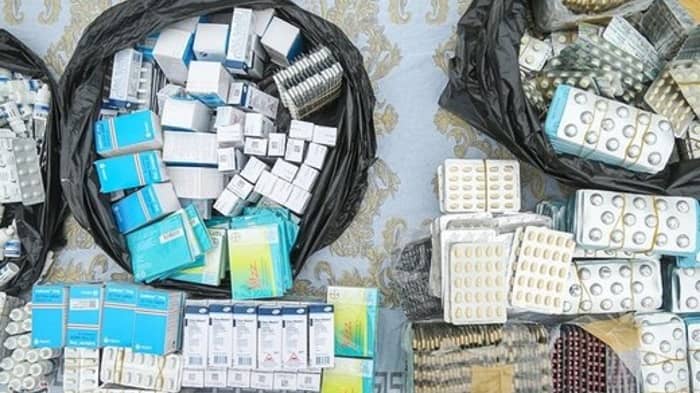 The Iraqi army's intelligence on Thursday reported it has confiscated 19 trucks that were smuggling hundreds of thousands of medications from Iran to Iraq. All the while, Iran's regime whines about international sanctions preventing them from helping people amid the COVID-19 pandemic.
According to Iraq media outlets, these trucks were traveling from the side roads in the Iraqi province of Diyala to evade customs duties and were stopped on the same route. The Iranian regime has been using the smuggling of goods as a source of income to fund its illicit activities.
In addition, according Alireza Vahabzadeh, an advisor to the regime's Minister of Health, the systematic smuggling of medicine causes a huge price difference between drugs in Iran and Iraq.
This new trafficking of medicine is taking place while the regime and its apologists try to blame United States sanctions for the spread of the COVID-19 pandemic. They try to blame U.S. sanctions, while medicines are exempted from these sanctions.
Vahabzadeh also said: "Drug and medicine trafficking has been occurring in Iran for many years."
Behrooz Bonyadi, one of the regime's former members of parliament, on November 1, 2019 said: "The trafficking of medicine is fully organized." "Traffickers rent citizens' insurances to purchase medicine and smuggle it to Iraq," Bonyad told the state-run Royedad24 website.
Regarding this "organized" trafficking, Said Namaki, the regime's Health Minister, in June 2019 said: "With two million euros of government currency, they imported power cables instead of stents for hearts."
Who dominates Iran's organized smuggling and trafficking of goods?
The corruption is institutionalized in the mullahs' regime. One of the most important aspects of the regime's corruption is the uncontrolled import of smuggled goods that dominates large percentages of mullahs' economy. The
Revolutionary Guards (IRGC)
controls the majority of this smuggling network and controls of nearly 90 ports in Iran, which are nearly 45% of Iran's 212 official ports. The IRGC's imports and exports from these ports is evaluated at nearly $12 billion each year.
This organized smuggling of goods not only helps the regime to fund its illicit activities, but also damages Iran's economy.
In this regard, the state-run Tasnim news agency on May 5, 2017 wrote: "The figure of $15-20 billion of smuggled goods is not a low figure for our country; it is natural that the entrance of goods from illegal channels can deliver irrecoverable damages. From an economic point of view the uncontrolled entrance of smuggled goods will lead to the end of the country's domestic production, and this could have meant jobs for two million people."
All the while, IRGC forces shoot and kill deprived porters near Iranian borders. These poor porters carry heavy loads on their back to earn money for feeding their families. The IRGC's smuggling network has enormously destructive impacts, particularly now amid the coronavirus outbreak that people are in need of medicine.
Thus, supporting the mullahs' regime and advocating for sanctions to be lifted only helps the IRGC and other oppressive and terrorist forces to continue their malign activities.
https://www.ncr-iran.org/en/news/economy/while-whining-about-sanctions-irans-regime-smuggles-medicine-to-iraq/