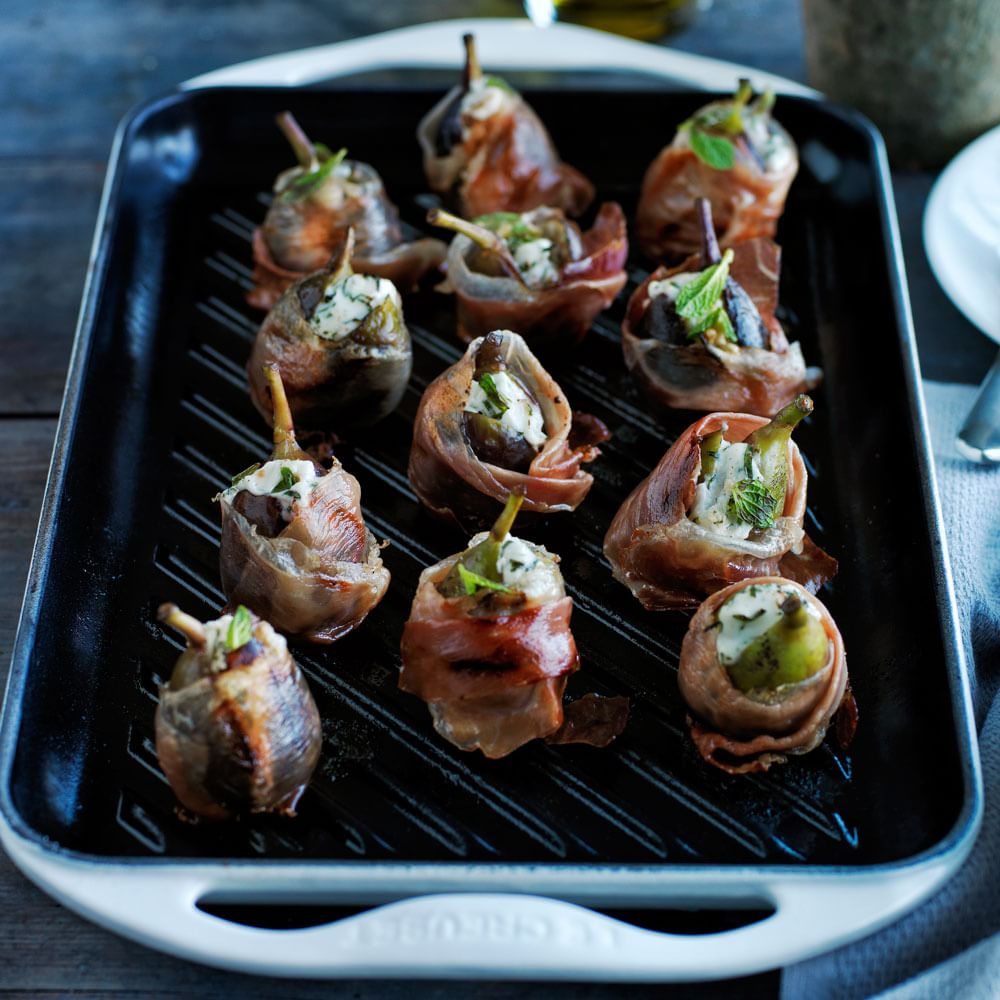 Grilled Prosciutto-Wrapped Figs with Goat Cheese
Be the first to
Write a Review
Prep Time: 10 minutes
Cook Time: 2 minutes
Servings: 6
Choose figs that are ripe but still somewhat firm to prevent them from turning too soft when they are grilled. Using a pastry bag makes it easy to pipe the filling into the figs, but you can use a small spoon to fill them if you prefer.
Ingredients:


2 Tbs. pine nuts

5 oz. (155 g) fresh goat cheese (about 3/4 cup)

2 Tbs. chopped fresh mint, plus small mint leaves for garnish

18 firm but ripe fresh figs, stemmed

18 paper-thin slices prosciutto

Directions:
Prepare a hot fire in a grill.
In a mini food processor, combine the pine nuts, goat cheese and chopped mint and pulse until the goat cheese is creamy. Transfer the mixture to a pastry bag with a large plain tip.
Using a sharp knife, make a lengthwise slit in one of the figs starting at the stem end, cutting about three-quarters of the way through the fruit. Gently pry open the fig and, using the pastry bag, pipe 2 to 3 tsp. of the filling into the fig. Press the sides of the fig together to close. Wipe off any goat cheese remaining on the outside of the fig, then wrap 1 of the prosciutto slices around the fig, making sure the opening at the top of the fig is completely covered by the prosciutto. Thread a toothpick or small skewer horizontally through the fig. Repeat with the remaining figs, goat cheese and prosciutto.
Grill the figs until the prosciutto is browned on one side, about 1 minute. Turn and cook until the second side is browned, about 1 minute more. Transfer the figs to a platter, remove the toothpicks and let cool slightly. Garnish with mint leaves and serve immediately. Serves 6.
Williams-Sonoma Test Kitchen