Brazil Is Throwing a Big Impeachment Party
Anna Edgerton
annaedge4
April 14, 2016 — 9:12 PM PDT
Brazil Knuckles Down for Impeachment Sunday Spectacle


Decisive vote set for Sunday in bitterly divided country

Inflatable Lula has a Twitter account in the social-media war

[email=?body=Brazil%20Is%20Throwing%20a%20Big%20Impeachment%20Party%0ABy%20Anna%20Edgerton%0Ahttp%3A%2F%2Fbloom.bg%2F1XyLN9z%0ABloomberg&subject=Brazil%20Is%20Throwing%20a%20Big%20Impeachment%20Party]il[/email]
On Sunday, at 2 p.m., the bitter political drama that has all but paralyzed Brazil will take its climactic turn. The country is ready. Barricades are up on the esplanade in front of the National Congress. A big soccer match has been rescheduled, shopping malls may close. Huge outdoor screens will broadcast the vote by the Chamber of Deputies that could put President Dilma Rousseff a hair's breadth from impeachment. 
The tension is palpable, and Rousseff's adversaries and backers are stoking it for an edge in a decision that looks too close to call. Before voting begins, demonstrations will mount in big cities and small towns, with pro-Rousseff forces clad in Workers-Party red, pro-impeachment activists decked out in the flag's yellow and green. Speaker Eduardo Cunha plans to give the showdown a spectacle-like feel from the start, reading aloud the names of all 513 lower-house member in a showcase roll call.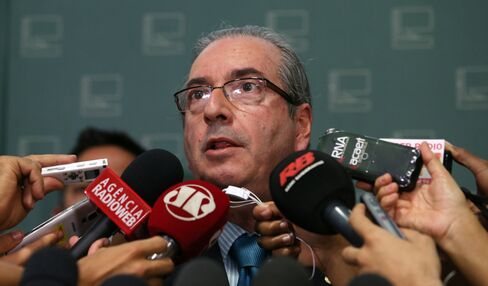 Eduardo Cunha
Photographer: Lula Marques/Bloomberg
"Neither side is totally certain they have the votes they need," said Paulo Calmon, a political science professor at the University of Brasilia. They're "trying to create a herd mentality."
By staging the event on a Sunday, when Brazilian families typically gather at home or in bars or restaurants with TV sets blaring, Cunha has guaranteed maximum exposure, even for people trying to avoid politics. 
Crippling Recession
Cunha is the showmaster, a Brazilian Democratic Movement Party member who came out against Rousseff last year, around the time that prosecutors revealed he was under investigation for allegedly hiding money related to corruption in a Swiss bank account.
The speaker is just one of many caught up in a long-running anti-corruption blitz that has put top executives and politicians behind bars. And more than half the members of the congressional panel that recommended the impeachment vote take place are under investigation for everything from alleged campaign financing irregularities to environmental offenses.
As for Rousseff, the current impeachment accusation against her is that she used accounting tricks to hide a budget deficit, which she says isn't a crime that warrants impeachment. The president has denied any wrongdoing. Still, in the view of many Brazilians, she's guilty of far worse, presiding over an economy that has sunk into a crippling recession.
'Political Theater'
Some Brazilians back impeachment because they're fed up with the lousy economy and waves of corruption scandals. Eyel Carvalho, 30, is one of those. He also wants the whole thing to be over. The demonstrating in Brasilia has often made his job providing logistical services to banks and government ministries "almost impossible." He applauded the decision to have the vote on a Sunday because that will ensure transparency -- and won't interrupt the work week.
"As a citizen, I feel like a clown, just another part of this political theater," he said. "For this vote to have any legitimacy, it has to happen where the people can see it."
A last-minute legal challenge to the impeachment proceedings was denied late Thursday. After some six hours of deliberations, the Supreme Court upheld the lower house's voting schedule.
The pro-impeachment camp needs two-thirds of the lower house to take its side. Cunha has said deputies will have less than a minute each to state their positions in a voice vote. Newspapers are tallying which way they may go with scoreboards that shade photos of those against in red, those in favor in blue, the undecided in gray. By most observers' measures, if the lower house endorses impeachment, the Federal Senate will follow.
Inflatable Lula
Rousseff's office said she'll probably watch the proceedings from the presidential palace. Vice President Michel Temer, her successor if she's ousted, will be in Sao Paulo. Former President Luiz "Lula" Inacio da Silva, her predecessor and mentor, is already in Brasilia.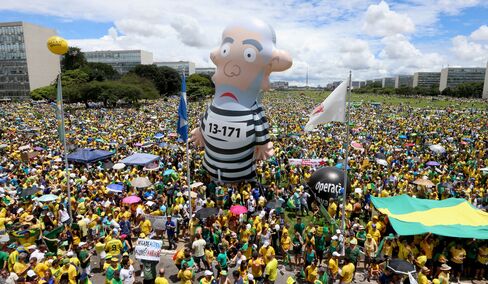 Pixuleco
Photographer: Lula Marques/Bloomberg
Lula is staying in a hotel where local media spotted an impeachment enthusiast dressed to look like Pixuleco, a caricature of the former leader in prison stripes that's popular with protesters. Pixuleco, which first showed up as an inflated balloon, has a Twitter account, one of dozens waging the social-media battle in the war for influence. Fans have photoshopped the figure into famous shots, sitting on the bench beside Forest Gump, watching the Beatles' stroll on the Abbey Road album cover, on the moon with a U.S. flag.
Public pressure could be a decisive factor, said Attorney General Jose Eduardo Cardozo. "The protests are extremely important. We've reached a situation where protests against impeachment are also coming out strong, rivaling those who defend impeachment."
'High Emotions'
Protests against Rousseff since she narrowly won re-election in 2014 have had a familiar rhythm, organized weeks ahead of time via Facebook, Twitter and other sites. In Brasilia, people gather at the National Museum of the Republic around 10 a.m. and march to the Congress building. On Copacabana beach in Rio de Janeiro and Avenida Paulista in Sao Paulo, activities usually start in the afternoon. Central plazas across the country are overtaken by crowds singing the country's anthem and protest songs popularized on YouTube.
The website is littered with parodies of Rousseff speeches -- a remix of one she gave saluting the yucca root went viral -- and other lampoons. One enterprising digital artist pasted the heads of Rousseff and other politicians onto the bodies of the dancers in Michael Jackson's "Thriller" video.
There have been more pro-Rousseff rallies in recent weeks too, organized by labor unions, groups affiliated with the Workers' Party and celebrities including the singer Chico Buarque, who
echos
Rousseff's message that impeachment without a crime is a coup d'etat.
For their part, Rousseff defenders contend that if the impeachment were legitimate, it wouldn't have taken four and half months to convince Congress that the most unpopular president on record by some measures should be booted.
Come Sunday, riot police and troops will try to keep impeachment backers on one side of the barricades, government supporters on the other. Some people lament the existence of a wall, others worry the fencing is too flimsy, because those who travel to the capital for the event are likely to be the most passionate about the outcome.
"When you have great crowds of people with very high emotions," said Calmon, the professor, "it's difficult to know what's going to happen."
http://www.bloomberg.com/news/articles/2016-04-15/impeachment-sunday-brazil-cooks-up-rowdy-made-for-tv-spectacle