Spain's Political Standoff Roiled by Panama as Soria Quits
Maria Tadeo
mariatad
April 15, 2016 — 2:29 AM PDT Updated on April 15, 2016 — 5:20 AM PDT
Mariano Rajoy's attritional campaign to hold on to power in Spain suffered an unexpected setback on Friday when a minister in his cabinet quit over his links to an offshore company listed in the Panama leaks.
Acting Industry Minister Jose Manuel Soria's resignation may upend the caretaker prime minister's political calculus as he watches the clock run down toward May 2, the final date for his rivals to seal an alliance to oust him. Almost four months after his People's Party lost its parliamentary majority, the premier is betting that a fresh vote likely to be held in June may tip the balance of power in his favor.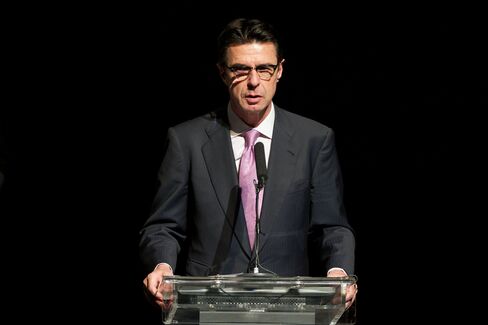 Jose Manuel Soria
Photographer: Carlos Alvarez/Getty Images
"This news comes at a very bad time for Rajoy with a new electoral campaign probably starting soon," Antonio Barroso, a political analyst at Teneo Intelligence in London, said by phone. "The rest of the parties will use this against the PP."
The leak this month of millions of pages of financial records from the Panamanian law firm, exposing billions of dollars hidden in tax havens around the world, has set off a global furor. Seeking to contain the fallout from the scandal -- implicating everyone from world leaders to prominent business people -- some governments have pledged to crack down on tax evasion and money laundering to help regain public trust.
The Party Line
The Group of 20 finance ministers and central bankers meeting in Washington this week will probably urge Panama to do more to share information about companies registered there and Iceland's government defeated a no-confidence vote after sacrificing its prime minister to public outrage and promising an early election. Spain is among a group of EU nations that want the G-20 to make it tougher for people to hide behind trusts or foundations to avoid paying taxes.
The Soria scandal feeds into the political standoff created by last December's inconclusive election.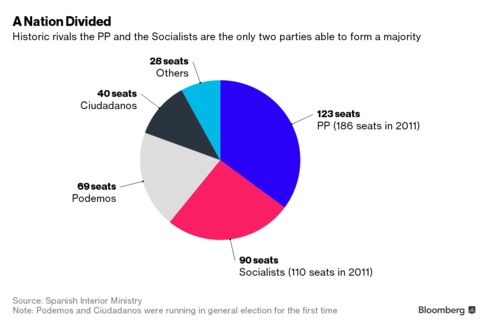 The three parties trying to force Rajoy from power have argued that the acting prime minister's alleged links to a slush fund for senior officials that stretches back more than a decade and a broader wave of graft allegations against his party make him unfit for office and they've refused to lend him their support. Rajoy, who denies any wrongdoing, says it's not fair to stigmatize his party because of the conduct of a few individuals.
Reacting to Soria's resignation, Acting Deputy Prime Minister Soraya Saenz de Santamaria said he had taken responsibility and done the right thing for the party. She did not explain to what extent the government was aware of his business deals. Acting Budget Minister Cristobal Montoro said "no one" linked to an offshore firm should be in power.
"You can't be part of a government under those conditions," he told reporters at a press conference in Madrid following the weekly cabinet meeting led by Rajoy.
Soria's Backtracking
Soria, 58, was dragged into the Panama leaks scandal after giving contradictory accounts of his relationship with U.K. Lines, an offshore firm set up by the Panamanian law firm Mossack Fonseca. First he denied any involvement with the firm listed in the documents from Panama, then backtracked as new revelations showed he was involved in a similarly named company registered in the U.K. in the 1990s. 
On Thursday calls for the minister's resignation intensified, and his PP colleagues began to abandon him, after El Mundo newspaper released a document carrying Soria's signature from a Jersey, U.K.-based company dated 2002. By that stage, Soria had been active in PP politics.
"He was trapped by his own lies, and by the cynicism and shamelessness that can only come from those who've come to feel untouchable," Carolina Bescansa, a lawmaker with the anti-austerity party Podemos, said in an interview in Madrid. "This shows to what extent the political system has been damaged by systemic corruption."
Deeper Problems
Since December's election, the PP's Madrid headquarters has been raided by police, a group of senior Agriculture Ministry officials was arrested for siphoning off public funds, and its Valencia chapter was accused by a court of laundering money as part of an illegal party-financing racket.
"Until the PP goes into opposition and brings to an end this shameful government, the democratic regeneration of our country won't have arrived," Pedro Sanchez, leader of the second biggest party, the Socialists, said in a radio interview.
Soria is the second minister to resign from Rajoy's government because of alleged financial impropriety. Health Minister Ana Mato departed in 2014 after a court said she might have benefited from bribes paid to her then-husband, who was allegedly involved in a PP bribery ring.
"The Soria case has to be seen in the broader context of corruption in the PP," said Vincenzo Scarpetta, a policy analyst at Open Europe, a research institute in London. "It makes them an easy target and makes it harder for the PP to justify that these are just isolated cases."
http://www.bloomberg.com/news/articles/2016-04-15/spain-s-political-standoff-roiled-by-panama-as-minister-resigns