Soros Chart Signals BOJ Bond Buying Already Enough to Weaken Yen
Kevin Buckland
Masaki Kondo
Shigeki Nozawa
May 8, 2016 — 8:01 AM PDT Updated on May 8, 2016 — 10:39 PM PDT


Japan monetary base rises to 96% that of U.S. in dollar terms

UBS says `hard to imagine' one-way yen strength will continue

Japan's money supply is close to overtaking that of the U.S. economy and some investors say that signals a weaker yen.
The Bank of Japan's bond buying has nearly trebled the monetary base in just over three years to more than 386 trillion yen ($3.6 trillion) as of April, a central bank report showed Friday. Base money in dollar terms is at its highest relative to the U.S. since 2006 at 96 percent, despite Japan's economy being about a quarter the size. Some traders have dubbed the ratio a "Soros Chart," after billionaire investor George Soros correctly predicted in the 1990s that burgeoning supplies of funds would weaken the yen.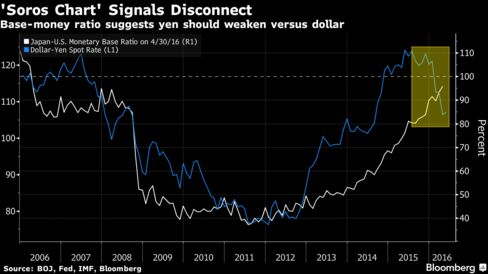 "An expanding monetary base is a factor for yen weakness, making it hard to imagine that the one-way strength that we've seen in the yen will continue," said Fumio Nakakubo, chief investment officer for Japan at UBS Group AG's wealth management unit. "There is an excess of yen in the market -- like how juice gets diluted by adding too much water -- and it will cause the yen's value to drop further and further."
Yen Strength
A weaker exchange rate has been central to Governor Haruhiko Kuroda's efforts to exit deflation and spur growth. Yet the yen surged the most since 2010 against the dollar after BOJ officials dashed rising investor expectations for additional easing at the last policy meeting ended April 28. That has taken the currency's gain this year to 12 percent, the most among developed-market peers.
The yen was at 107.55 per dollar in Tokyo at 2:36 p.m., after surging as high as 105.55 last week for the first time since October 2014, when the BOJ expanded its quantitative easing program. Sudden moves in the yen rate aren't desirable and Japan has the means to intervene in the currency market, Finance Minister Taro Aso said Monday in parliament.
The yen's haven appeal in an environment of uncertain global growth has undermined Kuroda's attempts to stoke inflation and thwarted his expectations that introducing negative interest rates in January would weaken the exchange rate.
The BOJ is expanding the monetary base at an annual pace of 80 trillion yen, whereas the Federal Reserve
wound down
its own quantitative easing program in October 2014.
Japan's monetary base could outstrip America's as soon as this month, and now amounts to 77 percent of nominal gross domestic product, according to data compiled by Bloomberg. That's up from 31 percent when Kuroda launched his stimulus, and compares with 22 percent in the U.S. currently.
In a January 1996 seminar in Tokyo, Soros said the yen would weaken for two years due to its increasing supply. The currency went on to tumble as much as 29 percent versus the dollar to October 1998.
"The market wants a quick fix, but the BOJ is doing everything it can," said Daisaku Ueno, chief currency strategist at Mitsubishi UFJ Morgan Stanley Securities Co. "In the long run, it's difficult to imagine the effect won't be felt in the value of the yen."
http://www.bloomberg.com/news/articles/2016-05-08/soros-chart-signals-boj-bond-buying-already-enough-to-weaken-yen