Multiple people stabbed at Sacramento far-right rally & counter-protest
Published time: 26 Jun, 2016 19:22Edited time: 26 Jun, 2016 20:33
Get short URL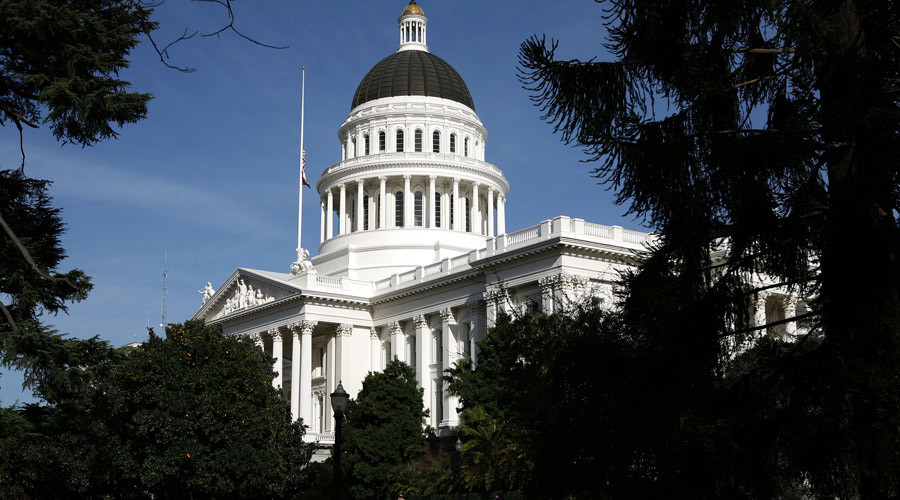 A view of the California State Capitol in Sacramento © Justin Sullivan / AFP
AddThis Sharing Buttons
Multiple people have been stabbed after clashes broke out during a rally outside State Capitol in Sacramento, California. The violence broke out between far-right activists from the Traditionalist Worker Party and counter-protesters.
The Traditionalist Worker Party members, often described as a neo-Nazi group who have links to white supremacy and far-right causes, showed up for a planned rally at the Sacramento Capitol, where they were met by activists from Antifa Sacramento counter-protest, local media report. Antifa is an anti-fascist movement.
Sacramento Fire Department (SFD) says five patients have been transported to nearby hospitals from the site of the incident, some of them in critical condition from stab wounds. They however didn't specify which group the injured were from.
Emergency vehicles are at the scene to provide medical aid.
Bloodstains are also visible on the pavement in pictures posted on Twitter.
A local ABC 10 network reporter states police had to use tear gas to disperse the rival protesters.
A Sacramento police officer told reporters at the scene that there are still protesters on the capitol grounds who have been permitted to "
exercise their right to free speech
" under the supervision of officers from multiple jurisdictions.
[url=https://popup.taboola.com/en/?template=colorbox&taboola_utm_source=rt-rtcom&taboola_utm_medium=bytaboola&taboola_utm_content=ab_thumbnails-a_monetizer:Below Article Thumbnails:]  [/url]
[url=https://popup.taboola.com/en/?template=colorbox&taboola_utm_source=rt-rtcom&taboola_utm_medium=bytaboola&taboola_utm_content=ab_thumbnails-a_monetizer:Below Article Thumbnails:]by Taboola [/url]
[url=https://popup.taboola.com/en/?template=colorbox&taboola_utm_source=rt-rtcom&taboola_utm_medium=bytaboola&taboola_utm_content=ab_thumbnails-a_monetizer:Below Article Thumbnails:]
https://www.rt.com/usa/348500-stabbing-rally-sacramento-california/[/url][url=https://popup.taboola.com/en/?template=colorbox&taboola_utm_source=rt-rtcom&taboola_utm_medium=bytaboola&taboola_utm_content=ab_thumbnails-a_monetizer:Below
Article Thumbnails:]
[/url]