The Clinton Death Squads; The Growing List of Dead Political Enemies

"Bill, do you think they know?"
"What's one more body"?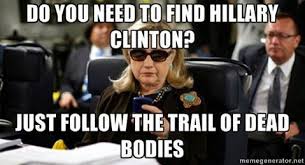 The Clinton Death Squads
The trail of bodies have continued to grow at every stop of Bill and Hillary's rise to power. These "accidents" can no longer be explained away as mere coincidences. The details are in this video.  
These Are the Bodies That Only Cover the Past Six Weeks In the Face of the Email "Investigation"
The video only dealt with alleged Clinton inspired crimes covering the past several weeks. Here are more reminders from the past about who and what America is ready to elect.In an update to the murders covering the past several weeks, I must emphasize the highly suspicious circumstances surrounding Victor Thorn. And now we see evidence that leaked Clinton emails were responsible for the death of a scientist in Iran.
A Legacy of Questionable Value
The Whitewater Body Count
John Wilson was found dead from an apparent hanging suicide on May 18, 1993. He was a former Washington DC council member and claimed to have information on Whitewater at the time of his death. Jon Parnell Walker was an investigator for the RTC who was looking into the linkage between the Whitewater and Madison Savings & Loan bankruptcy. Walker "fell" from the top of the Lincoln Towers Building. Stanley Huggins was a principal in a Memphis law firm which headed a 1987 investigation into the loan practices of Madison Guaranty Savings & Loan. Stanley died in Delaware in July 1994 and the highly questionable reported cause of death was viral pneumonia. 
Also part of the Whitewater body count, and one of the most notorious of those who were murdered to cover up Clinton's misdeeds was 
James McDougal, 
Clinton's convicted Whitewater partner died of an apparent heart attack, while in solitary confinement. He was a key witness in Ken Starr's investigation.
Was James McDougal Murdered In A Federal Prison To Silence Him?                                                                                                                                                 Ron Brown:
Even High Ranking Government Officials Are Not Safe From the Death Squads

Ron Brown – Secretary of Commerce and former DNC Chairman. Reported to have died by impact in a plane crash. A pathologist close to the investigation reported that there was a hole in the top of Brown's skull resembling a gunshot wound. At the time of his death Brown was being investigated, and spoke publicly of his willingness to cut a deal with prosecutors.
The Botched Ron Brown Investigation
An Interview with AFIP Forensic Photographer Kathleen Janoski
How many people were murdered by guns obtained courtesy of the Clinton Foundation when she was Secretary of State?
The Benghazi Murders
There is now proof that
Obama was warned in advance
of the coming attack in which Stevens begged for more protection and his impassioned plea was denied by Clinton.     As Stevens was begging for help after the attack had begun, General Hamm had activated a special forces team within minutes of learning that the embassy, which was really a
CIA safe house
, was under attack.
On at least three occasions Clinton turned down requests from Stevens to have his security detail increased in strength given the volatility of the situation in Libya.  The State Department could not afford the added expense.  And all of this cost-savings came from a an administration that doubled the debt to a whopping $19 trillion dollars. This is part of her legacy.
The Late Ambassador 
You've Got Mail
It is widely known that Hillary Clinton has received and sent over 36,000 State Department emails over her private computer. These emails have been judged by the FBI to have been classified. What Clinton did was illegal and each violation carries up to a five year prison term. Yet, Clinton has her accomplices after the fact, FBI Director, James Comey, President Obama and Attorney General, Loretta Lynch, blocking any further investigation and subsequent grand jury proceedings. Yet, this woman who knows no shame, stays in the Presidential race with these allegation hanging over her head. And can there be any doubt that many of these emails contains information about Benghazi and this was Clinton's way of keeping her complicity and the true story of what really happened off of the official books?
In a dot connecting event, 
Aaron Klein
published some damning emails which showed that Clinton was announcing
the movements of Stevens
, a classified activity, from her private computer. How is she not under investigation for murder?
Murder By Proxy: Hillary Helped Form ISIS
Clinton and Obama created ISIS according to Donald Trump.
ISIS is funded by the CIA, so says
Scott Bennett
who is a U.S. Army Special Operations Officer (11th Psychological Operations Battalion, Civil Affairs-Psychological Operations Command), and a global psychological warfare-counterterrorism analyst, formerly with defense contractor Booz Allen Hamilton. He received a Direct Commission as an Officer, held a Top Secret/Sensitive Compartmentalized Information (TS/SCI)security clearance, and worked in the highest levels of international counterterrorism in Washington DC and MacDill Air Force Base in Tampa, Florida. He has developed and managed psychological warfare theories, products, and operations for U.S. Special Operations Command, U.S. Central Command, the State Department Coordinator for Counterterrorism, and other government agencies. Bennett has repeatedly produced the documents that show the Obama administration, including Clinton, was behind the creation of ISIS. 
These allegations have been echoed by Donald Trump when he said "
Hillary Clinton created ISIS with Obama.
"
Trump is absolutely correct! At the center of the WikiLeaks revelations of Clinton's treason and criminal behavior demonstrates undeniable links
 to Lafarge
. Lafarge paid taxes to ISIS in order that they could protect its cement factory from destruction. The factor is located approximately northeast of Aleppo, Syria.
Another criminal
investigation
conducted by a Syrian news agency, 
Zaman al-Wasl,
an independent news organization, stated that Lafarge bought oil from ISIS on a consistent basis.
In a 2007 Washington Post 
article, at a time,
when Clinton provided the bulk of the Clinton family income. in the 1990's before husband Bill was elected President of the United States. Hillary Clinton, at that time, was "earning more than $100,000 a year from her law firm salary and corporate board fees." At the time, she served on Lafarge's board, making about $31,000 a year from the company. the year 2007, was the year that Lafarge built its cement plant in Syria. Later, as it was revealed that Lafarge bought oil from ISIS. and Clinton was on the board of the corporation that help fund the rise of ISIS, the Trump statement is 100% correct. However, the truth gets far worse.
The

American Spectator

report from November 1996 cited sources confirming that Hillary Clinton did legal work for Lafarge in the late 1980s before she became a director. The report also claimed that Lafarge's US subsidiary:

"…provided key services for the covert arms export network that supplied Saddam Hussein. To prevent exposure of that secret supply line, and collateral damage to Hillary Clinton – who joined Lafarge board in 1990, just as the arms pipeline was being shut down… the Justice Department was told to bury the investigation… But investigators from other US government agencies who worked on the case say they were 'waved off' whenever they got too close to exposing the direct involvement of the intelligence community in the arms export scheme." (Ed. Note: This is would be the poison gas shipments to Hussein that my Benghazi source spoke of.)
Hillary Was a Part of Sadam Hussein's Secret Weapons Program
As I have reported before, but it bears repeating, Clinton's murdering ways knows no boundaries. She is a complete sociopath as evidenced in her role in Hussein's attacks upon innocent Kurds.
When I was investigating Benghazi, one of my confidential sources told me that Hillary Clinton sat on the board of the company that provided poison gas to Hussein, who in turn used the gas to attack the Kurds. Today, I am finding evidence to validate the truth of this claim.
The weapons were manufactured by Lafarge and approved by Clinton. The depopulation agenda, to be continued under Clinton as the murdering of innocent babies will continue under Clinton as noted in the photo listed below.
Poison gas used in the Iran-Iraq War was manufactured using ingredients reportedly supplied by
LaFarge
. Five thousand Kurds were gassed to death by chemicals supplied by the very company that Hillary Clinton was working for while serving on their board of directors.
The Death and Destruction Will Continue Under a Clinton Presidency
Should we be surprised at the Clinton trail of bodies? Look at the background of this picture. This is who she really works for, and will continue to work for them, even if she is elected President. If she were being totally honest, her platform would consist of one word, depopulation! 
There Are Those That Will Support Her to the Bitter End
These people were with her, too. Everything Clinton touches, dies.
Do we really want to send America's modern day version of Bonnie and Clyde back into the Oval Office? If not, make this information go viral.
http://www.thecommonsenseshow.com/2016/08/08/the-clinton-death-squads-the-growing-list-of-dead-political-enemies/