Media Matters Founder Calls For Fox's Chris Wallace to Be Removed As Presidential Debate Moderator
Sep. 9, 2016 6:21pm 
Media Matters founder David Brock sent a letter Friday to the Commission on Presidential Debates, requesting they remove Fox News' Chris Wallace from moderating the final debate this fall.
"It is a glaring conflict of interest that Roger Ailes, who resigned from Fox News in July, simultaneously provides advice to Donald Trump while serving as a paid 
adviser
 to Fox News chief Rupert Murdoch—debate moderator Chris Wallace's boss," Brock wrote.
Kris Connor/Getty Images
Ailes was the chairman and CEO of Fox before stepping down after 20 years amid allegations of sexual harassment, spearheaded by former network host Gretchen Carlson earlier this summer. Shortly after leaving the channel, Ailes reportedly began advising Trump on debate preparation.
In his letter, Brock also noted Wallace's Sept. 4 assertion that it's "
not my role
" to fact-check Trump and Hillary Clinton during the debate — a revelation Brock called "troubling."
The letter to the commission comes on the heels of
intense scrutiny
aimed at NBC's Matt Lauer, who hosted back-to-back presidential forums with Trump and Clinton earlier this week. Critics suggested Lauer displayed sexism in his questioning of Clinton while not pressing hard enough when it came to Trump.
For her part, Fox's Megyn Kelly, who is friends with Lauer, praised the NBC broadcaster, crediting all the criticism to his inability — or unwillingness, perhaps — to appease the "left-wing press."
"You can't win in this election, you can't win," she
said
Thursday. "Especially, with all due respect to our brethren, the left-wing press, because they wanna see you kill Trump. And if you try to throw too much shade at Hillary, then they wanna kill you."
See Brock's full letter below: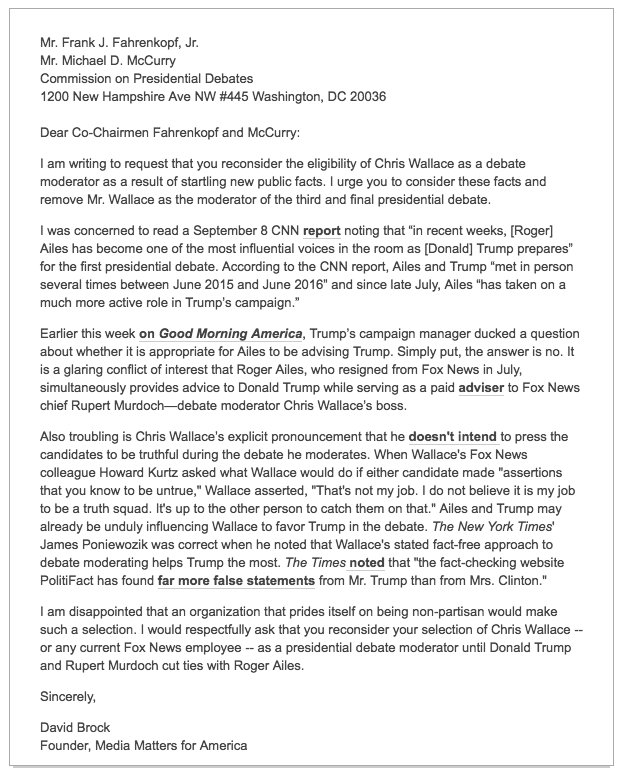 http://www.theblaze.com/stories/2016/09/09/media-matters-founder-calls-for-foxs-chris-wallace-to-be-removed-as-presidential-debate-moderator/?utm_source=Sailthru&utm_medium=email&utm_campaign=Firewire%20-%20HORIZON%209-10-16%20FINAL&utm_term=Firewire