Twitter Erupts With Clinton Body-Double Conspiracy Theories Following Health Scare  --  WHERE IS THE SECRET SERVICE????
Sep. 12, 2016 3:04pm
Kaitlyn Schallhorn
Democratic presidential nominee Hillary Clinton's
collapse
at a 9/11 memorial service Sunday ignited a new Twitter conspiracy regarding the 68-year-old: the possibility that she is using a body double.
Shortly after news broke regarding Clinton's medical episode that caused her to leave the memorial earlier than planned, the
hashtag
#HillarysBodyDouble
began to trend on Twitter.
The Clinton campaign said that the collapse was the result of overheating after she was diagnosed with pneumonia on Friday.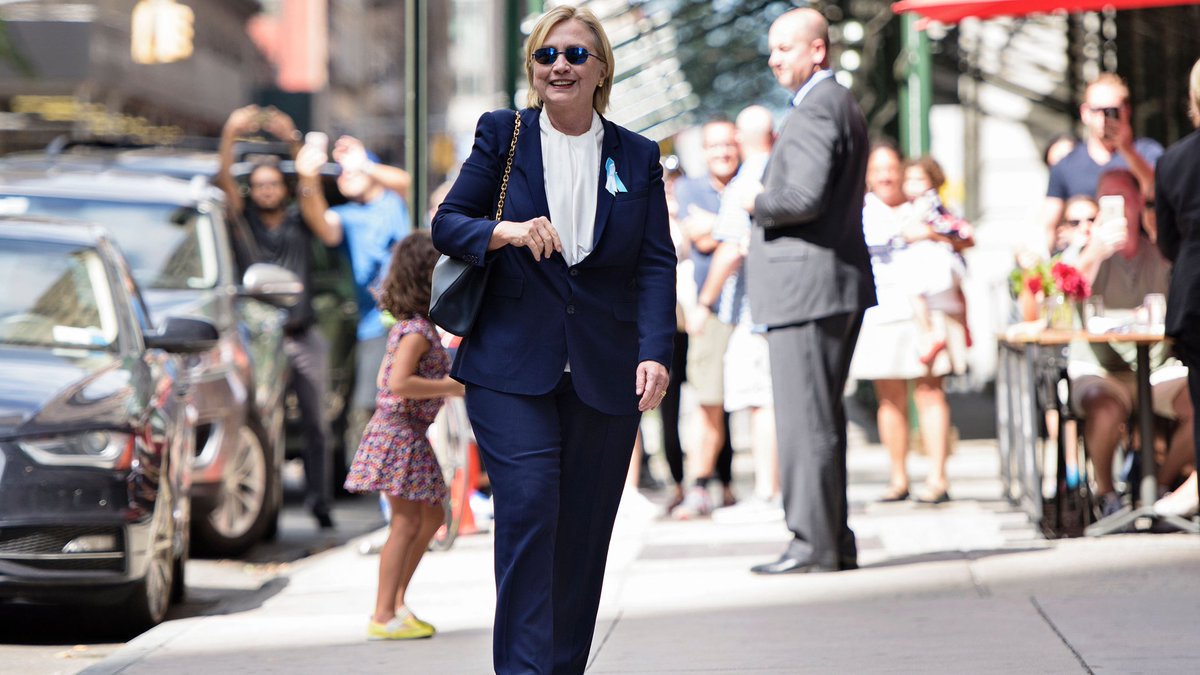 Twitter users posted photos of Clinton reemerging from her daughter's Manhattan apartment and pointed out supposed discrepancies in an effort to prove the woman in the photos was not the former secretary of state but a lookalike.
Some pointed to the fact that Clinton was not flanked by staff or security as she left her daughter's apartment, despite collapsing and requiring assistance getting into a van just hours before.
Other Twitter users took notice of Clinton's appearance after the episode, scrutinizing her clothing, makeup, hair and jewelry in search of evidence that the campaign had actually employed a doppelgänger to appear in her place.
Does Chelsea have a lipo machine in her apartment?
Furthermore, Snopes argued:
Most users noted that a lack of Secret Service agents in view around the candidate was a clear indicator that the Clinton spotted later that day was an impostor. But if that unprotected "Hillary Clinton" were seriously wounded or killed by an assassin, it would be impossible for the real Clinton to recover from the subterfuge and go on to win the 2016 election, so the risk of fallout from such a large cover-up would far outweigh the benefits of Clinton's faking a "body double" reappearance on 11 September 2016. …
Whether Clinton looked the same in the two photosets is a subjective assessment, but extensive video and photographs of the subsequent appearance reveal a woman who is clearly not Teresa Barnwell. Although Barnwell happily appeared as Clinton for fun, there was no way the two women could be confused for one another up close given their clear facial dissimilarities."
Whether Clinton has used a body double during her presidential campaign isn't the only
conspiracy theory
that has arisen this election — especially regarding the candidate's health.
In fact, as CNN
reported
, conspiracies surrounding her health have dated back to 2012 after she suffered a concussion from passing out from dehydration prior to testifying before Congress on the Benghazi attacks. At the time, some Republicans suggested that Clinton had faked her health scare in order to avoid the testimony.
But this election cycle, Clinton's health has been at the forefront of Republicans' and conspiracy theorists' minds. Former New York City Mayor Rudy Giuliani has encouraged voters to look up "Hillary Clinton illness" online, and GOP presidential nominee Donald Trump has questioned whether Clinton has the "mental and physical stamina" to become the next U.S. president.
As for Clinton's health scare over the weekend, Trump simply
wished her well
during an interview on Fox News Monday..
Clinton's campaign
canceled
multiple appearances in California set for Monday and Tuesday in light of the candidate's pneumonia diagnosis, the Los Angeles Times
reported
Sunday evening. Her campaign is also expected to
release
more medical records in the wake of her illness.
http://www.theblaze.com/stories/2016/09/12/twitter-erupts-with-clinton-body-double-conspiracy-theories-following-health-scare/?utm_source=Sailthru&utm_medium=email&utm_campaign=Firewire%20Morning%20Edition%20Recurring%20v2%202016-09-13&utm_term=Firewire_Morning_Test