Donald Trump Is Handing a Windfall to Mexican Immigrant Families
Isabella Cota
Isabella_CS
October 3, 2016 — 2:00 AM PDT Updated on October 3, 2016 — 6:35 AM PDT


Tough campaign rhetoric shakes up the currency market

As peso plunges, immigrants rush to reap the rewards

Mention the name Donald Trump to Gerardo Lozano, and it doesn't take long for him to explode. "I can only imagine," he says, the anger building in his voice, "what it will be like if he becomes president."
Lozano, 58, short and wiry with thick glasses and a black-and-gray "TEXAS" ball cap, is an undocumented Mexican immigrant. For 15 years now, he's worked in the U.S., the last two of them as a day laborer in Plano, just outside Dallas. He does a little roofing, some landscaping, plumbing, whatever comes his way. On a good day, he can pocket $150.
What Lozano doesn't know about Trump's candidacy is that, strangely enough, it has benefited him greatly. The value of those paychecks he earns, when converted into pesos and wired back home to his family in Mexico, is soaring. That's because Trump's harsh discourse toward Mexicans -- build a huge wall, throw out all illegal immigrants, renegotiate NAFTA -- has rattled markets and
pushed the peso down
against the dollar month after month.
Each dollar that Lozano ships across the border today provides his wife Maria with almost 20 pesos. In mid-2015, before Trump entered the race, each dollar fetched just over 15 pesos. The extra cash has helped Maria pay for all sorts of little luxuries: new blue jeans and skater-style sneakers for their 16-year-old son; and weeks-worth of supplies of beef, chicken and bars of soap. She's even looking to salt away a little of the money so she can build a proper staircase to the second floor of their home in northern Mexico.
It all adds up to a mini-windfall for the Lozanos and countless other Mexican families spread out across both sides of the Rio Grande, and it is one of the great ironies of the 2016 presidential campaign. Donald Trump, the man whose improbable political rise was built largely on his pledge to crack down on illegal immigrants, is inadvertently assisting many of them.
Record Low
Data shows Mexicans are sending more dollars back home than they have in years, a surge explained in part by the rush to take advantage of the attractive exchange rate. What's more, some experts even believe that more Mexicans could eventually be tempted to cross into the U.S. in search of work if the peso remains at these levels for months to come.
"If you're saving to buy a house or have a big expense coming up," said Carlos Vargas-Silva, an economist with Oxford University's
Migration Observatory
, "this is the moment" to ship back the money.
Lozano understands that part, of course. Like most Mexicans here, he follows the peso's fluctuations closely and has been scrambling of late to repatriate every dollar he can. Some weeks, he sends as much as $200, double what he used to. That's part of the reason his wife has had so much extra spending money. He just hadn't realized that it was Trump that was triggering those swings in the peso.
It plunged to a record low of 19.93 per dollar early last week before recovering some of its losses as Trump's campaign showed signs of faltering weeks before the November vote. Investors worry that if elected, Trump would try to seize migrant remittances; or force American manufacturers to close plants in Mexico and re-open them at home (he's called out Ford Motor Co. and Carrier Corp. on this point); or wind up accidentally weakening the U.S. economy, the buyer of four-fifths of all Mexican exports.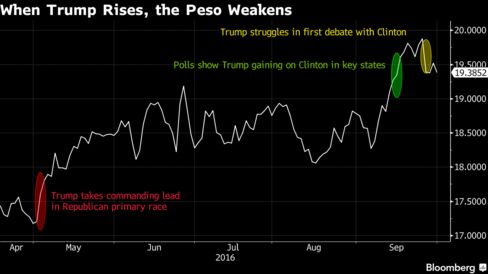 There are other factors pushing the peso weaker as well, but Trump's ascendancy has been the main driver of late, according to Andres Jaime, a strategist at Barclays Plc. "Once he gained momentum, that's when we really saw the peso underperforming."
The Trump campaign didn't return requests for comment.
Emergency Plan
For Mexico, the jump in remittances is a rare bright spot in an economy that's been sluggish for years. The $15 billion that flowed over the border in the first seven months of the year marks an 8 percent increase from last year and an 18 percent gain from five years ago.
Much of that money goes straight into consumption. The Lozano family highlights that. So too does Israel Gonzalez. An immigrant who works as a welder in Dallas, he said he's been shipping over more cash to have mechanics fix up a classic VW Beetle he owns back in his home town. And then there's Iris. She and her husband increased the amount they wire to their parents to help them buy groceries and clothes and pay utility bills.
"With the exchange rate moving so much, I try to send a bit more," said Iris, who asked her last name be withheld. "Because I know for them, it's going to be a lot more."
Trump's rise clearly hasn't been all positive for Mexicans living here. There's the pain of seeing a candidate who's spoken so disparagingly about them win so much support. "These are values Americans had and were hidden," Iris said. "And this man brought them out."
And there's the growing fear of deportation. After watching the Republican National Convention in July, Iris decided she needed an emergency plan. She instructed her mother to set up a savings account for her, a little contingency fund, so that she and her husband -- a construction worker in Dallas -- and their two young daughters have something to fall back on if they get thrown out of the country.
And the money for the account?
It comes from her Trump-fueled windfall, of course.
http://www.bloomberg.com/news/articles/2016-10-03/donald-trump-is-handing-a-windfall-to-mexican-immigrant-families