China Industrial Profits Climb 14.5%, Led by Coal And Metals
Bloomberg News
December 26, 2016, 5:44 PM PST December 26, 2016, 7:08 PM PST


Earnings rose to 774.6 billion yuan last month on price gains

Rise comes amid rebound in factory inflation, coal strength

Profits at industrial firms in China accelerated in November, with raw material producers leading gains, as prices of products such as coal and metals continued to advance.
Industrial profits rose 14.5 percent from a year earlier to 774.6 billion yuan ($111 billion), the National Bureau of Statistics said Tuesday. That compared with the 9.8 percent increase in October. Earnings in the first 11 months climbed 9.4 percent to 6.03 trillion yuan.
Earnings posted the second-strongest gain in more than two years as factory inflation rebounded to a five-year high in November on surging coal and metal prices. That helps manufacturers cut debt and invest more, while delaying efforts to reduce excess capacity.
"Profits of industrial companies have continued to rise this year, but they still face challenges to improve their efficiency," the NBS said in a
statement
. "Profit gains depend excessively on price rebounds for raw material sectors such as oil processing or steel."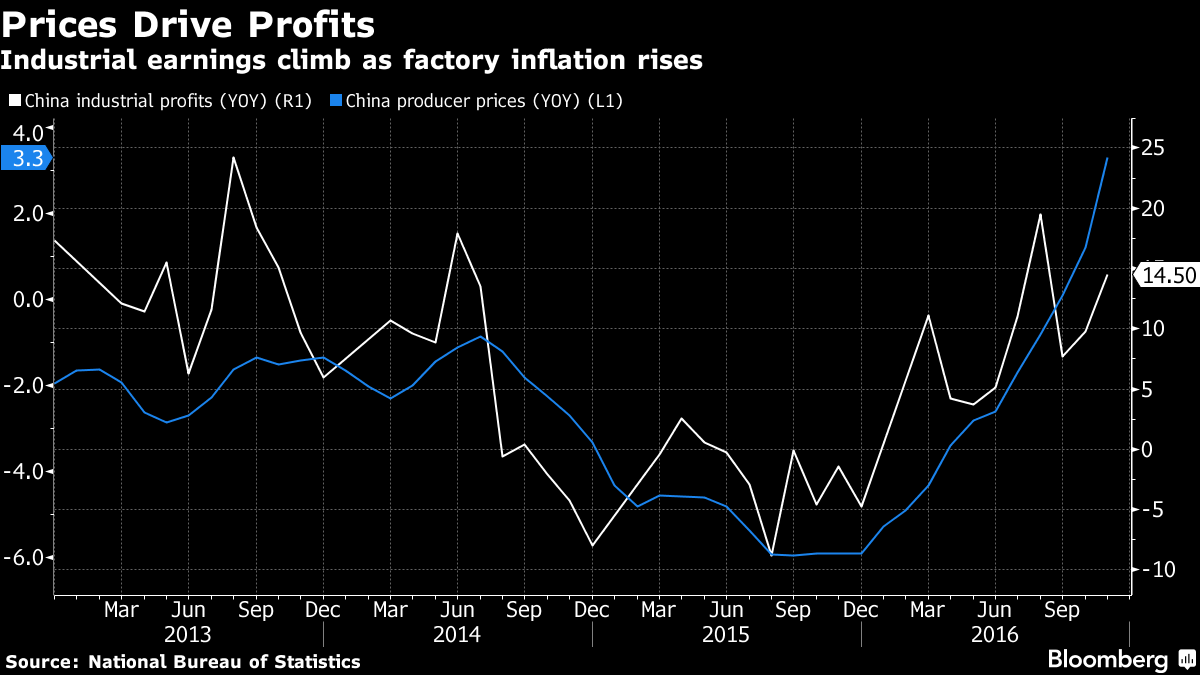 Raw material producers contributed 68 percent of the industrial profit gains in the first 11 months from a year earlier, NBS said. Earnings from coal mining rose 157 percent in the first 11 months while those for base metal processing surged 275 percent.
Not all sectors showed gains. Industries such as oil and gas drilling and power supply saw profit declines in the first 11 months.
https://www.bloomberg.com/news/articles/2016-12-27/china-industrial-profits-increase-as-production-prices-recover