ISRAEL'S SECRET WEAPON - THE TALPIOT PROGRAM-video

ksp

Dedicated Investor





Posts

: 221


Thanked

: 56


Join date

: 2012-12-21


Lobo

Moderator





Posts

: 28111


Thanked

: 1899


Join date

: 2013-01-12

WOW, i had heard rumors but what an eye opener.



ksp

Dedicated Investor





Posts

: 221


Thanked

: 56


Join date

: 2012-12-21

https://www.veteranstoday.com/2018/05/07/whatsapp-black-cube-facebooks-new-spy-tool-for-the-mossad/
WhatsApp: Black Cube/Facebook's New Spy Tool for the Mossad
By
Gordon Duff, Senior Editor
-
May 7, 2018
10
3213
Introduction
For those who don't use encrypted messaging, Zoom and the far more popular WhatsApp won't be familiar.  For those in business, everything goes on these services.  WhatsApp can put a call through anywhere, anytime, encrypted, safe and always a reliable way to reach someone in an emergency.
Then Facebook, and by "Facebook," we mean the "ugly Zuckling" and his Black Cube friends, meaning "Mossad."
Their deal was to buy a billion dollar app for nearly $20 billion and start tapping the phones/private encrypted communications of millions of users who are generally business travelers.
Black Cube – The Borg in form and function
It goes further, then they access the phone numbers called, gather data on them and tap them as well.  Eventually, every person that travels for business, including military contractors for instance, scientists, you get the picture?
All of it turned over to the folks that worked with Cambridge Analytica, a big name for a pack of Mossad thugs working with neocon scum and "Black Cube," the folks Trump hired privately with money we have no idea where it came from, to fabricate intelligence on Iran in order to start a war.
Black Cubes methods, kidnapping Iranian "witnesses" and soliciting "testimony" at the barrel of a gun, the full "Gina Haspel," as we call it, is exposed and so much else in the new TV series, "Deep State."
Facebook says they are doing just fine and that their members are more addicts with no self respect, willing to submit to authority, even when that authority is Zuckstein and his mobster friends.
By "mobster friends," we mean Gargle Corporation.
John Naughton
Jan Koum's exit reportedly followed clashes over Facebook's attempts to weaken encryption of the messaging service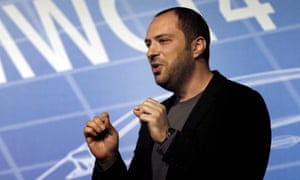 Jan Koum, co-founder of WhatsApp. Photograph: Alberto Estevez/EPA
And then 
Facebook came by and offered $19bn for the company
, which at that moment was valued at $1.5bn. Koum and Acton accepted the offer and instantly became billionaires.
The big puzzle at the time was why Facebook had paid so far over the odds for a messaging app. The conventional wisdom was that Zuckerberg & co had noted WhatsApp's rapid rise and wanted to be able to monetise all the lovely data that would flow from it. Facebook's algorithms would read WhatsApp messages and use them to target the service's users.
But the pill was sweetened, at least from Facebook's point of view, by a decision to change WhatsApp's terms and conditions to allow Zuckerberg's crowd to access the phone numbers of the app's users – unless they had opted out. This was a key moment, because once Facebook has your phone number, then you're easy meat for identity purposes.
In this way, WhatsApp was launched on to the slippery slope that leads to full-blown surveillance capitalism.
Read more at
UK Guardian
SOURCE
UK Guardian
Previous article
Top 5 Veterans News: May 7th 2018
Next article
Iran wakes up – 'Hey, we have a lot of chemical weapons experience from Saddam'
Gordon Duff, Senior Editor
https://www.youtube.com/user/gpduf
Gordon Duff is a Marine combat veteran of the Vietnam War. He is a disabled veteran and has worked on veterans and POW issues for decades.
Gordon is an accredited diplomat and is generally accepted as one of the top global intelligence specialists. He manages the world's largest private intelligence organization and regularly consults with governments challenged by security issues.
Duff has traveled extensively, is published around the world and is a regular guest on TV and radio in more than "several" countries. He is also a trained chef, wine enthusiast, avid motorcyclist and gunsmith specializing in historical weapons and restoration. Business experience and interests are in energy and defense technology.
Gordon's Archives - 2008-2013
Gordon's YouTube Channel

wciappetta

NNP TEAM





Posts

: 4585


Thanked

: 2489


Join date

: 2012-12-20

Bull Shipe! We've heard this stuff before and unfortunately too many "dumbsters" listen to it. Iran listens to it for example as if they need to justify their hatred.
Really I can care less... I predict all nations/peoples will find reasons to go against Israel. 
Behold, I will make Jerusalem a cup of trembling unto all the people round about, when they shall be in the siege both against Judah and against Jerusalem. 3And in that day will I make Jerusalem a burdensome stone for all people: all that burden themselves with it shall be cut in pieces, though all the people of the earth be gathered together against it. 4In that day, saith the LORD, I will smite every horse with astonishment, and his rider with madness: and I will open mine eyes upon the house of Judah, and will smite every horse of the people with blindness. 5And the governors of Judah shall say in their heart, The inhabitants of Jerusalem shall be my strength in the LORD of hosts their God.6In that day will I make the governors of Judah like an hearth of fire among the wood, and like a torch of fire in a sheaf; and they shall devour all the people round about, on the right hand and on the left: and Jerusalem shall be inhabited again in her own place, even in Jerusalem. 7The LORD also shall save the tents of Judah first, that the glory of the house of David and the glory of the inhabitants of Jerusalem do not magnify themselves against Judah. 8In that day shall the LORD defend the inhabitants of Jerusalem; and he that is feeble among them at that day shall be as David; and the house of David shall be as God, as the angel of the LORD before them. 9And it shall come to pass in that day, that I will seek to destroy all the nations that come against Jerusalem.

Mourning the One they Pierced

(John 19:31-37)10And I will pour upon the house of David, and upon the inhabitants of Jerusalem, the spirit of grace and of supplications: and they shall look upon me whom they have pierced, and they shall mourn for him, as one mourneth for his only son, and shall be in bitterness for him, as one that is in bitterness for his firstborn.
That said, the reason Jesus defends Israel is because he promised Abraham and his word is who he is. But this groups of Jews who are defended have also finally discovered their Messiah Jesus, the promised remnant foretold by Isaiah. I will never entertain this anti-Israeli bias because then you become an enemy of Jesus Christ. Now that the  cards are on the table I'm finished.
_________________
For I know the thoughts that I think toward you, saith the LORD, thoughts of peace, and not of evil, to give you an expected end. Then shall ye call upon me, and ye shall go and pray unto me, and I will hearken unto you. And ye shall seek me, and find me, when ye shall search for me with all your heart.

Readytogo

Understood Investor





Posts

: 107


Thanked

: 87


Join date

: 2013-06-30

Right on Ward, His coming is soon and I'm ready to go!!!

ahill

All In Investor





Posts

: 1271


Thanked

: 740


Join date

: 2013-01-16

I don't trust Facebook - that's why I refuse to join.

ksp

Dedicated Investor





Posts

: 221


Thanked

: 56


Join date

: 2012-12-21