Posted on 4th October 2015 by Stucky

Pictorial Essay, Pussified Children
WE ARE RAISING A NATION OF WEENY-FIED CHILDREN!! Yes, we are! And, we will eventually pay the price. EVERY one of the actions below in today's 'Murika is frowned upon, downright illegal or,  subjects you parents to a visit from the State Gestapo, aka Child Protective Services.
==============================================
SNOWBALL FIGHTS!!

(Of which I was on the receiving end of more than one black eye … to which my dad would say, "You're such a pussy!")
"13 Year Old Up On FELONY Charges For Throwing A Snowball That Reportedly Hit A Cop" ——- http://www.thedailysheeple.com/13-year-old-up-on-felony-charges-for-throwing-a-snowball-that-reputedly-hit-a-cop_022014
LEMONADE STANDS!
"Texas police shut down girls' lemonade stand, demand permit" ——– http://abc13.com/news/police-shut-down-girls-lemonade-stand/776322/
TAG! WIFFLE-BALL! KICK-BALL! STICK-BALL! DODGE-BALL! HORSESHOES! MOST ORGANIZED SPORTS!

DANGER, Will Robinson!!!!! Above activity is I-L-L-E-G-A-L and D-A-N-G-E-R-O-U-S! Switch to tiddlywinks immediately!
http://www.livescience.com/13808-kickball-tag-dangerous-kids.html
PLAYING OUTSIDE ALL DAY AND NIGHT!

The routine; 1) eat breakfast, 2) announce you're going out to play, 3) mom would scold "You BETTER be home by dinner time!", which was 6PM, 4) wander FAR&WIDE, often miles from home, 5) crap!, it's 5:45 … run like hell to get home, 6) eat dinner … in silence, 7) announce you're going out to play, 8) mom would scold "You BETTER be home by dark!", 9) wander FAR&WIDE, often miles from home, 10) crap, it's dark! … screw it, I'm not hungry, let's keep playing until 10PM, 11) get home at eleven, 12) listen to empty threats of something mysteriously called "being grounded", 13) repeat the next day!
CRAPOLA BREAD! 
Yeah, we ate crappy bread devoid of real nutrition. Often with real peanut butter, but with sugary grape jelly. Or, with rubbery crapola bologna, processed 'Murican cheese, and fatty butter. We took off the tomato and threw it away. Accompanied by a sugary drink like Fruit Punch. And culminated with moar sugar, like a Hostess Cream Filled Cupcake. Yummy!! And ya know what???  Not ONE of was was FAT!! Not. One. Ya know why?  Cuz we played outside all day. (See above.)
NO HELMETS #1!!
I learned to ride a bike on Fairmont Ave. in Newark, NJ … going DOWN a hill, when my evil mom — like the evil dad above — LET GO!  And, yeah, I fell, and got a bloody lip out of it. Mom took out her hanky, spit in it (really), wiped off the blood, and triumphantly said, "You almost did it! Let's try AGAIN!".  Is there a statute of limitations regarding such egregious child abuse?
NO HELMETS #2!! 
Not only did our parents not care if we killed ourselves …. they encouraged us to kill our friends and siblings.  "Mom, I'm going to take a bike ride to the park." And she'd say, "Take your sister with you!". Which I did. On the handle bars. Without helmets.  She survived just fine …. most of the time. You see, back in my day, there was ONE SURE WAY to get made fun of … mercilessly, and eventually getting your ass kicked.  Wearing a helmet!
BOWS & ARROWS! 
Little did I know that I was an uncouth cretin playing a politically incorrect game of Cowboys & Indians. My parents actually got me a REAL bow & arrow set when I was 14 years old.  It was a short bow, had round blunted tips made of rubber, and probably a draw strength of five pounds. But, lemme tell ya … it COULD put an eye out!! We ALWAYS included my sister in these games.  She was ten years younger … so we always made her the hostage.  Even tied her up, as above …. except usually to a tree. Then I'd shoot her with my bow & arrow. I never put her eye out. She thought it was fun. So did I. OTOH, maybe that's why today she's a gun-hating libtard Democrat.
GUNS!!
We played Cops & Robbers! People DIED! We used ketchup as blood to make it look real. We took cap pistols to school  … so we could play Cops & Robbers during recess. I believe that in rural areas kids could even take bb-guns to school. No one gave a rats ass. Ever.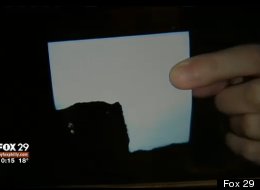 A five year old girl brought the above piece of paper — something her grandfather made — to class. A school official yelled at her for bringing a gun to class and threatened to have her arrested. Other school children called her a "murderer". ——- http://www.huffingtonpost.com/2013/01/23/melody-valentin-fifth-grader-paper-gun-searched_n_2535689.html
"BANG! BANG!" 

Do you know that it is now an "act of violence" for a child to point a finger as a pretend gun and saying "pow pow"?  We've come a long, long way from George Carlin's "seven words you can't say on television".  There are now dozens of words, if not hundreds, that are strictly Verboten in this pussified Orwellian country.
http://www.thedailysheeple.com/act-of-violence-8-year-old-defies-code-of-conduct-that-prohibits-students-from-playing-with-invisible-guns_102013
SENSIBLE PUNISHMENT!

Practically the only way to get expelled was if you actually put someone's eye out.  They didn't expel kids willy-nilly for every imaginable offense.
KNIVES AND POINTY OBJECTS! 
Pretty much every boy had some kind of pocket knife … which we were allowed to bring to school. We even sharpened pencils with them .. in class. No problem-o! The rich kids had genuine Swiss Army Pocket Knives … the ones with 38 different tools attached. I wanted the Radio Knife (above), but dad said the electric bill would be too high. In today's lunatic zero tolerance policy you can't bring anything sharp to school without being considered a possible terrorist. 
"Teen Faces FELONY Charges for Possession of a Loaded Tackle Box" — http://www.thedailysheeple.com/zero-tolerance-lunacy-teen-faces-felony-charges-for-possession-of-a-loaded-tackle-box_102013
WALKING TO SCHOOL … ALONE!
When we lived in Newark I walked a good ten city blocks to school … much of it through the people-of-color section. When we moved to the burbs it was almost one mile to school, uphill, both ways.  For 12 freaking years I walked to school and back home again, most of the time alone, in treacherous and abhorrent conditions (such as, snow), and I survived, somehow. Imagine that.

"CPS
Investigating Parents for Letting Kids Walk Home Alone" —–
http://www.thedailysheeple.com/cps-investigating-parents-for-letting-kids-walk-home-alone_012015
CHILD LABOR! 
Of course, this was before we gave a damn about 3rd world kids making sneakers for twenty cents a day. Jobs I had BEFORE I was a teenager; — paper route, shoveling snow, mowing grass, painting (with my dad who was a painter), working in an auto mechanic garage cleaning engines, and as a salesman (when I was 13 I had a summer job soliciting door-to-door for newspaper subscriptions … I got a DOLLAR per subscription …. sometimes I made as much as $30 PER DAY … I was quite a hustler, and that was a hefty sum for a 13 year old in 1966).  These were Days Of Glory.
SPENDING MONEY!
Did you know there was a time when you could take your One Dollar and get 100 pieces of candy??!! With my wealth (see above) I would eat so much candy in one sitting that I would literally make myself sick … puke-your-guts-out sick. No one cared.  Mom would simply say, "You better not throw up on the carpet. Serves you right. I hope you learned your lesson!" I never did.  These were Days Of Glory.
BATHS WERE FOR PUSSIES!

Even today, at age 81, my mom's house is so clean you could perform open-heart surgery in any room. After playing outside all day, the chances of me walking in the house were exactly zero. I'd strip to my underwear, and mom would hose me down. She had a big heart though.  In the winter time she'd use a warm bucket of water.
MAKING OUT!!

We ALL did it. Sooner, or later. No one freaked the hell out when Little Johnny kissed Mary.  In fact, adults though it was cute.  "Do it again, Johnny!  Ethel, quick! Get the camera!"
"6-year-old suspended for kissing girl, accused of sexual harassment." — http://www.cnn.com/2013/12/11/living/6-year-old-suspended-kissing-girl/
SPEAKING OF MOM ……….
… when I got home from school, or playing, or whatever …. mom was ALWAYS there for me. That was so comforting. That moms are forced to work today … well, call me an old fashioned prude, but that's just CRIMINAL!
BONUS IRONY: GO CARTS!!
Today's motorized versions can reach speeds of 40mph, or more. Every year there are thousands of injuries … including death. While the laws of all states exclude go-carts from public streets and highways, there is virtually zero control across America over their use on private property. The Nanny State will expel a five year old boy for kissing a girl, but let the same five year old drive a go-cart at 40mph through the woods. Hilarious.
.
CONCLUSION: We are doomed as a nation. DOOMED, I tell ya!!
http://www.theburningplatform.com/2015/10/04/pictorial-essay-18-things-i-did-that-my-grand-kids-cant-do-without-someone-getting-arrested/