Sea World Calls For End To Japanese Whaling
The controversial company is partnering with The Humane Society of the United States as part of a shift toward marine conservation.
04/02/2016 01:21 pm ET
320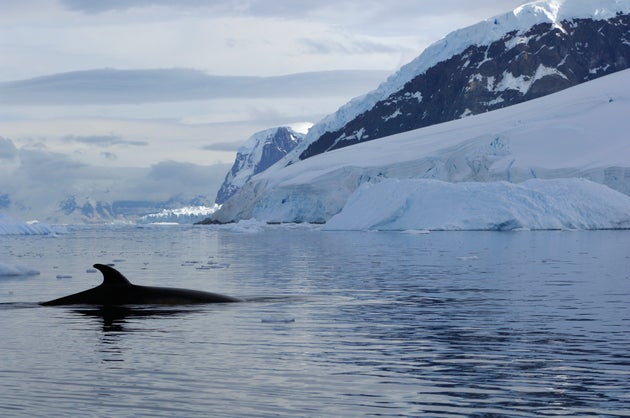 Paul Oomen via Getty Images
An Antarctic minke whale surfacing.
Sea World Parks & Entertainment and the Humane Society of the United States are urging President Barack Obama to
pressure Japan to end its whaling program
.
"The United States is well-positioned to lead a comprehensive effort to persuade Japan to abandon commercial whaling as an anachronism that is imprudent, unnecessary for food security, cruel and economically unsound," wrote SeaWorld CEO Joel Manby and Humane Society president Wayne Pacelle
in a joint letter to Obama
.
The Thursday letter called for the U.S. delegation to the International Whaling Commission to take a "stronger stand" against whaling and "advance the case" against commercial whaling when negotiating trade agreements.
Last week, a Japanese whaling fleet
killed 333 minke whales
— around 200 of which were pregnant females — on an expedition to the Antarctic Ocean. Japan maintains that the whales were killed in the name of scientific research, which means the expedition is not subject to limitations
set in place by the International Whaling Commission
.
ekvals via Getty Images A minke whale swimming.
However, Japanese whalers still sell the meat from whale hunts, leading animal advocacy groups like the Whale and Dolphin Conservation Society to
call their claims of scientific research a "loophole"
 in the IWC statutes. And in 2014, the International Court of Justice in The Hague ruled that Japan's whaling program
did not comply
with the definition of whaling for scientific research.
Ho New/Reuters A minke whale is harpooned by the Japanese whaling vessel Yushin Maru No. 2 in the Southern Ocean in this photograph released Feb. 7, 2008.
In a blog post, Humane Society President Pacelle
addressed concerns from animal advocates
skeptical of SeaWorld's commitment to animal welfare. SeaWorld has been the subject of massive criticism in recent years over its treatment of orca whales, largely inspired by the 2013 documentary "Blackfish."
"I know and have heard from marine mammal advocates who don't trust SeaWorld," Pacelle wrote. "I get their concerns, and I, too, was hesitant even to enter into the discussions ... But you typically don't make progress without committing to explore ideas and solutions with sincerity."
Pacelle noted that SeaWorld has recently made substantial commitments toward animal welfare. The company announced in March that it would
end its orca breeding program
. Since SeaWorld no longer captures orcas from the wild, this means that SeaWorld is phasing out its captive orcas.
SeaWorld has also pledged to increase its rescue and rehabilitation work, participate in other advocacy campaigns to help marine life and serve only "sustainably sourced" seafood at its parks.
However, the orcas currently at the parks will live out their lives in captivity, despite many animal advocates
calling for the parks to release them
to ocean sanctuaries. And critics maintain that SeaWorld's decision to stop breeding whales was
ultimately about money
, not concern for the whales' well-being.
http://www.huffingtonpost.com/entry/sea-world-japan-whaling_us_56ffd9b4e4b083f5c607d69c?ir=Politics&section=us_politics&utm_hp_ref=politics