Trump Says He's 'Presumptive Nominee' as Clinton Wins Four


Billionaire turns fire on Democrat, says she lacks 'strength'

Clinton victories put pressure on Sanders to prove viability

Republican Donald Trump declared himself the "presumptive nominee" and Hillary Clinton all but sealed the Democratic race as both scored dominating wins in northeastern state presidential primaries.
Trump won all five states holding votes Tuesday -- Pennsylvania, Connecticut, Maryland, Delaware and Rhode Island -- and earned a boost of momentum ahead of a key contest next week in Indiana.
Trump in New York on April 26.
Photographer: John Taggart/Bloomberg
"I consider myself the presumptive nominee," the billionaire real-estate mogul told supporters at Trump Tower in New York. "As far as I'm concerned, it's over."
Clinton beat Bernie Sanders in Connecticut, Pennsylvania, Delaware and Maryland, while the senator from Vermont was the victor in Rhode Island. Clinton's wins put her in close reach of her party's crown, with predictions from Sanders of altering that trajectory looking increasingly impossible.
"With your help, we're going to come back to Philadelphia for the Democratic National Convention with the most votes and the most pledged delegates," Clinton said from the city that will host her party's national convention in July. "We will unify our party to win this election and build an America where we can all rise together."
Sanders' Supporters
Clinton applauded Sanders and his supporters, as she moved to unify the party following a night that put her on the brink of the nomination. "Whether you support Senator Sanders or you support me, there's much more that unites us than divides us," she said.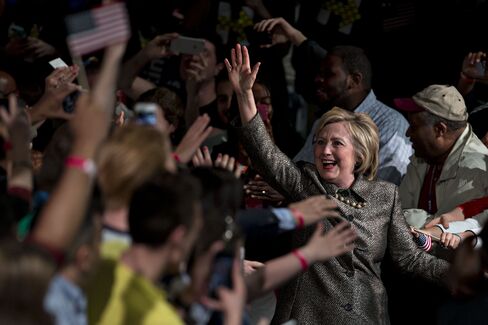 Clinton in Philadelphia on April 26.
Photographer: Andrew Harrer/Bloomberg
The former secretary of state also criticized Trump, both by name and by inference. "We're going imagine a tomorrow where hard work is honored, families are supported, streets are safe and communities are strong, and where love trumps hate," she said.
Trump shot back at Clinton during his Trump Tower appearance.
"She knows nothing about jobs, except for jobs for herself," he said. "She will not be a good president. She doesn't have the strength, she doesn't have the stamina."
'Woman Card'
The businessman also suggested Clinton is only where she is in the race because she's a woman. "The only card she has is the woman card," he said. "If Hillary Clinton were a man, I don't think she would get 5 percent of the vote. And frankly, women don't like her."
Trump still faces attempts by Senator Ted Cruz of Texas and Ohio Governor John Kasich to deny him the majority of delegates he'd need to avoid a fight for the nomination at the Republican convention in July. He and his rivals are already turning their attention to Indiana's May 3 primary, which is shaping up to be a critical contest for the effort to keep Trump from securing the 1,237 delegates he needs for the nomination.
QuickTake How the U.S. Elects Its Presidents
Trump led the Republican race with 950 delegates after some of those from the latest primaries were awarded, almost 77 percent of the number he needs, according to an Associated Press tally Wednesday. He was followed by Cruz at 560 and Kasich at 153.
On the Democratic side, Clinton had 2,141, or 90 percent, of the 2,383 delegates and superdelegates needed to win, compared to 1,321 for Sanders.
Shift to Indiana
Even before the latest round of voting, attention had shifted to Indiana. The Hoosier State is viewed as the last best opportunity by Trump's opponents to slow his momentum. It's also where Cruz and Kasich have agreed to first implement a long-shot plan they hope will help keep him from winning enough delegates.
The agreement calls for Cruz to focus on Indiana, while Kasich stays away from there. In exchange, Cruz won't compete in Oregon and New Mexico, which hold primaries on May 17 and June 7. Trump has repeatedly called the non-compete agreement "collusion."
The Deal
The deal, which could be expanded later, carries with it considerable risk. If Trump still wins Indiana, it could make him look close to unstoppable for the remaining primaries in May and early June.
Trump is scheduled to campaign there Wednesday with legendary former Indiana University basketball coach Bobby Knight, after delivering a foreign policy address in Washington.
Indiana's strong social conservative streak makes it friendlier territory for Cruz than the more moderate Kasich. The state has 57 delegates, with the statewide winner getting 30 and each of nine congressional districts awarding three.
But Cruz may have stumbled a bit Tuesday night in the state, where basketball is an obsession. Holding his rally in the same high school gym that was the setting for the movie "Hoosiers," Cruz referred to the hoop as a "basketball ring." The remark was widely circulated and mocked on social media.
Polling in Indiana has been minimal and surveys haven't captured movement following the announcement of the Cruz-Kasich pact. A RealClearPolitics average of recent polls showed Trump with a roughly six-percentage-point advantage over Cruz, with Kasich recording about 19 percent.
Cruz told supporters that the tide would soon turn his way, now that the race is moving out of the Northeast.
"The media is going to say the race is over. The media is going say Donald Trump is the Republican nominee," Cruz said in Knightstown, Indiana where he held a rally in the gym made famous as the home court of the high school basketball team in the movie "Hoosiers."
"Tonight, this campaign moves back to more favorable terrain," he said. "There is nothing that Hoosiers cannot do."
Speaking Tuesday evening, Sanders offered no signs of standing down. "This campaign is gonna win," he said at a rally in West Virginia, which holds its primary May 10.
Sanders argued that almost every national poll shows he would beat the Republican candidate in November by a "significantly larger" margin than Clinton and that he would continue his fight for the nomination through to the party convention in July. During his hour-long speech, he made no mention of Clinton by name or Tuesday's election results.
http://www.bloomberg.com/politics/articles/2016-04-27/trump-projected-to-win-three-states-clinton-takes-maryland