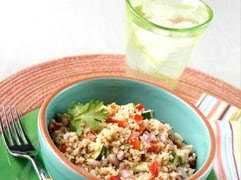 [size=18]Couscous Salad
Dietitian's tip:
Instant couscous may be prepared by simply pouring boiling water over it.
Serves 8
Ingredients
[/size][list="margin-right: 0px; margin-bottom: 12px; margin-left: 36px; padding-right: 0px; padding-left: 0px; list-style: disc;"]
[*]1 cup whole-wheat couscous
[*]1 cup zucchini, cut into 1/4-inch pieces
[*]1 medium red bell pepper, cut into 1/4-inch pieces
[*]1/2 cup finely chopped red onion
[*]3/4 teaspoon ground cumin
[*]1/2 teaspoon ground black pepper
[*]1/2 cup reduced-fat Italian dressing
[*]Chopped fresh parsley or basil for garnish (optional)
[/list]
[size]
Directions
Cook couscous according to preparation instructions on the package.
When couscous is cooked, fluff with fork. Mix in zucchini, bell pepper, onion, cumin and black pepper. Pour Italian dressing over the mixture and toss to combine. Cover and refrigerate for 8 hours, then garnish before serving.
Nutritional analysis per serving
Serving size :About 2/3 cup
[/size]


Total carbohydrate 22 g

Dietary fiber 4 g

Sodium 117 mg

Saturated fatTrace

Total fat 3 g

Trans fat 0 g



CholesterolTrace

Protein 4 g

Monounsaturated fat 1 g

Calories 130

Sugars 0 g

[size]
[/size]