'Rome Is Berning': Bernie Sanders Is Swarmed by Supporters in Vatican City – But Doesn't Get to Meet Pope Francis
5SHARES





subscribe now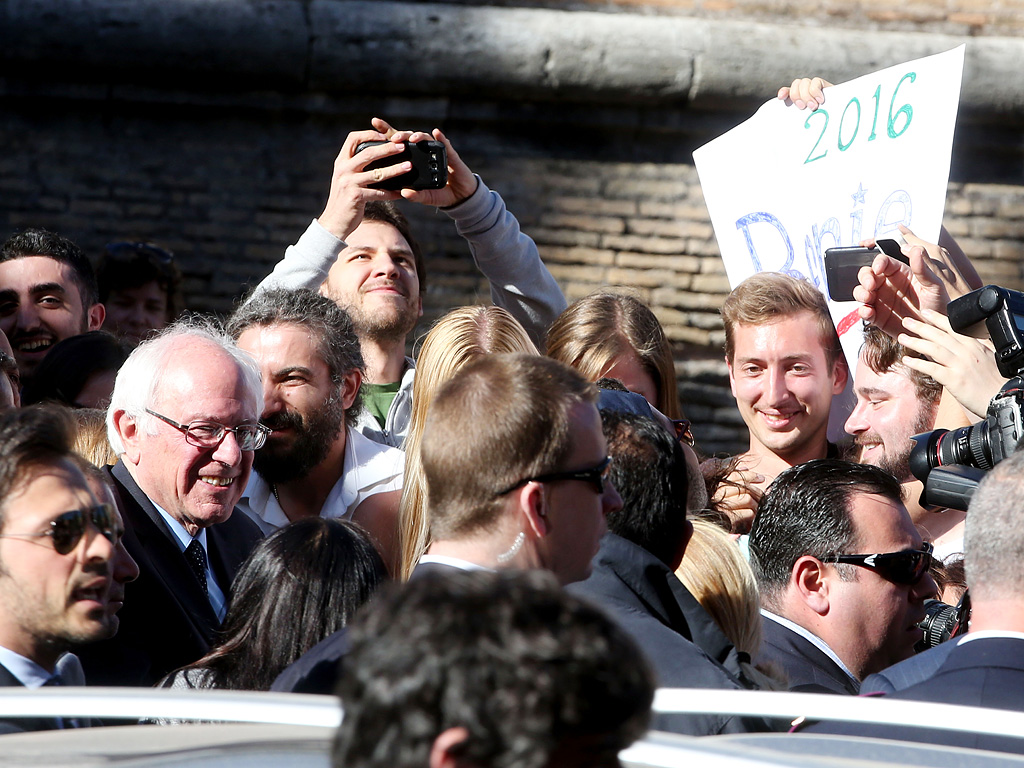 Bernie Sanders in Vatican City
Franco Origlia/Getty
By Tierney McAfee
@tierneymcafee
04/15/2016 AT 05:55 PM EDT
Even the Eternal City is feeling the Bern.
Democratic hopeful
Bernie Sanders
made a whirlwind, 24-hour trip to Rome on Friday, where he found himself in the international spotlight as he was greeted by cheering fans bearing signs reading "
Rome is berning
."
Although Sanders didn't get to meet
Pope Francis
as he had hoped, the Vermont senator praised the pontiff in his 10-minute address at a Vatican conference on social justice, and later in an impromptu briefing with reporters from around the world.
"I believe that the pope has played an historic and an incredible role in trying to create a new world economy and a new vision for the people of our planet," Sanders told reporters shortly after delivering his speech, titled "The Urgency of a Moral Economy," to the Pontifical Academy of Social Sciences.
"What he is saying is that we cannot continue to go forward when so few have so much and when greed is such a destructive force, not only in the U.S. but throughout the world," he continued.
"I have long been a supporter of the economic vision of Pope Francis. His views on climate change have played a profound … role in turning many people's minds around about the urgency of the moment in terms of dealing with climate change."
The senator's visit to Rome comes just four days before the critical New York primary, and one day after his
heated debate
with rival
Hillary Clinton
in Brooklyn.
Sanders criticized Clinton for her stance on fossil fuels on Thursday, so he
raised some eyebrows
when he boarded a private charter later that night for his quick detour from the campaign trail to Rome. (Private planes regularly come under fire as environmentally irresponsible, but chartered jets are commonly used by presidential campaigns and the White House for ferrying large staffs and press contingents on itineraries that crisscross time zones and change with the political winds.)
The senator, who has famously flown coach throughout much of his campaign, was accompanied on a standard Delta charter to Rome by his wife, Jane, and members of the press. (A source tells PEOPLE Sanders has been flying a charter with staff and the press corps for months.)
Ahead of his trip, Sanders said repeatedly that he hoped to visit with Francis. The pontiff apologized for being unable to meet Sanders, saying it would have conflicted with his trip to meet migrants on the Greek island of Lesbos.
http://www.people.com/article/bernie-sanders-rome-meet-pope-francis?xid=rss-topheadlines&utm_source=feedburner&utm_medium=feed&utm_campaign=Feed%3A+people%2Fheadlines+%28PEOPLE.com%3A+Top+Headlines%29