Saudi banks: electronic payment in shops is mandatory after one year
Electronic payment devices
 21 August 2019 06:21 PM
Riyadh - Mubasher: As of August 25, 2020, all shops and service providers will be required to provide online payment services, the Saudi Banking and Information Awareness Committee said on Wednesday.
The committee, in a statement through the official account on the "Twitter", that the shop is not entitled in accordance with instructions issued by the Ministry of Trade and Investment to reject any of the credit cards in the case of placing the label in the shop.
She continued: that in the case of refusal is a violation of merchant exposure to the fine, indicating that the shop is not entitled to take any kind of fees from the customer in the case of using the credit card to pay the value of his purchases.
Saudi Arabia, July 14, 2019, has begun to phase out all retail outlets across the Kingdom to provide online payment methods.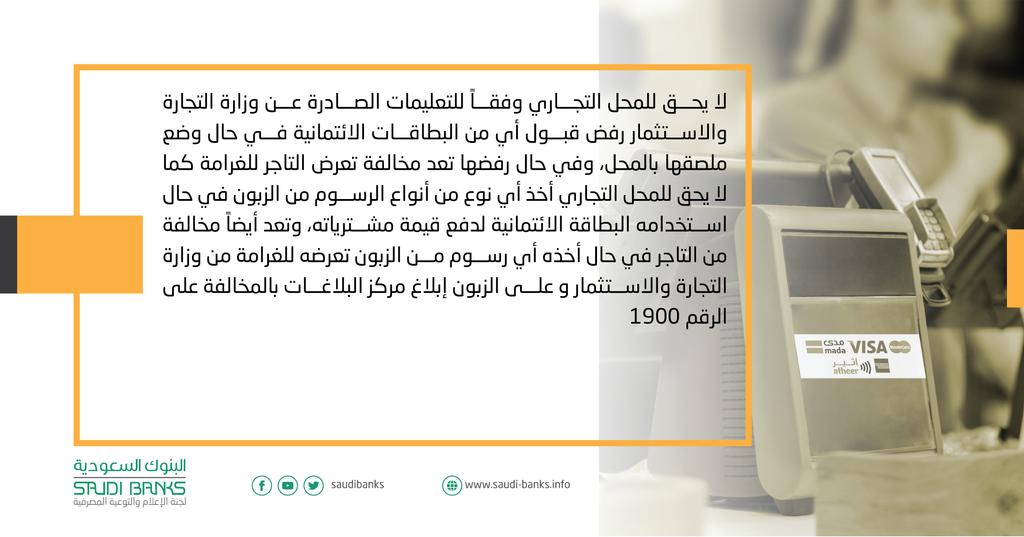 Nominations:


https://www.mubasher.info/news/3520975/%D8%A7%D9%84%D8%A8%D9%86%D9%88%D9%83-%D8%A7%D9%84%D8%B3%D8%B9%D9%88%D8%AF%D9%8A%D8%A9-%D8%A7%D9%84%D8%AF%D9%81%D8%B9-%D8%A7%D9%84%D8%A5%D9%84%D9%83%D8%AA%D8%B1%D9%88%D9%86%D9%8A-%D8%A8%D8%A7%D9%84%D9%85%D8%AD%D9%84%D8%A7%D8%AA-%D8%A7%D9%84%D8%AA%D8%AC%D8%A7%D8%B1%D9%8A%D8%A9-%D8%A5%D9%84%D8%B2%D8%A7%D9%85%D9%8A-%D8%A8%D8%B9%D8%AF-%D8%B9%D8%A7%D9%85