[ltr]Sidney Crosby Diagnosed With Another Concussion[/ltr]
[ltr]
CP  
 |  By The Associated Press 
[/ltr]
[ltr]
Posted: 10/10/2016 5:50 pm EDT  Updated: 10/10/2016 5:50 pm EDT 
[/ltr]
[ltr]


Sidney Crosby was playing the best hockey of his life. Now his extraordinary year is on hold and no one is sure when he will be back on the ice.
Pittsburgh said Monday that its superstar centre has been diagnosed with at least his third concussion just a few days before the defending Stanley Cup champion Penguins open their season.
Crosby has been in dominant form, clearly they best player in hockey. He finished as a Hart Trophy finalist as league MVP, won the Conn Smythe Trophy as playoff MVP and led Team Canada to the World Cup title just a few months after winning his second Cup with the Penguins.
His short- and long-term future is in doubt after another concussion, an injury that has dogged him off and on over six years.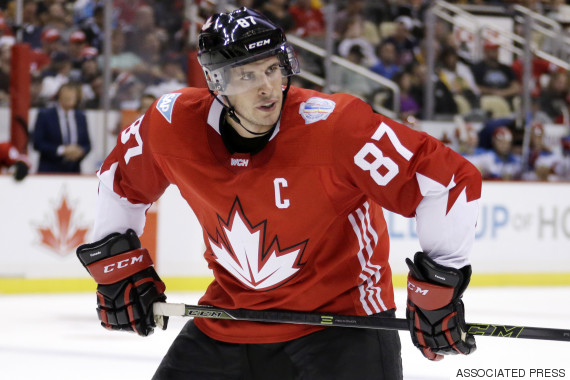 Sidney Crosby prepares to take a face-off during the World Cup of Hockey 2016 exhibition game, Sept. 14. (Photo: Gene J. Puskar/The Associated Press)
Coach Mike Sullivan told reporters that Crosby was concussed in practice Friday and that there was no timetable for his return. The diagnosis came as the Penguins prepare to raise their championship banner Thursday night before a home game against Alex Ovechkin and the Washington Capitals.
Sullivan declined to reveal how the concussion happened. General manager Jim Rutherford said Crosby was held out of the preseason finale against Columbus on Saturday because he wasn't feeling well and didn't practice Monday to go through concussion testing.
"Our medical staff will take the appropriate measures moving forward," Sullivan said.
The 29-year-old Crosby took blows to the head during the 2011 Winter Classic and in his next game that year, on Jan. 5 against the Tampa Bay Lightning. He was out until November. A hit Dec. 5 knocked him out until March, with the combined absences limiting Crosby to just 69 games over two seasons from 2010-2012. A broken jaw ended Crosby's lockout-shortened 2013 season.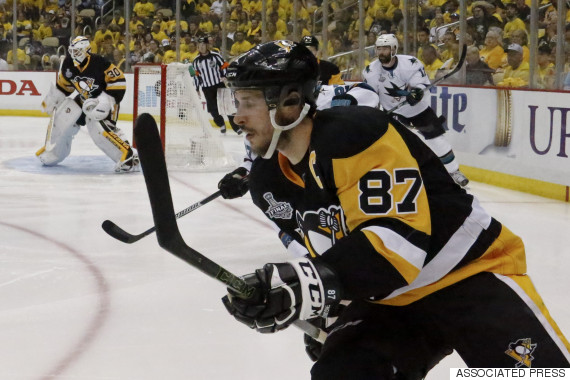 Sidney Crosby plays against the San Jose Sharks, May 30. (Photo: Keith Srakocic/The Associated Press)
Crosby has 338 goals and 600 assists in 707 NHL games. Four months ago, he led the Penguins to the fourth Cup in franchise history after piling up 85 points in 80 games.
"He's obviously an important player for us," Sullivan said. "We're fortunate that we have the depth that we have. We believe we have capable people that can help this team win, and that's how we'll approach it."
Concussions have been a thorny issue for the NHL in recent years, as they have for the NFL and other sports. The league stiffened penalties for hits to the head in hopes of reducing injuries, but more than 100 former players have sued the NHL and alleged it had the resources to better prevent head trauma, failed to properly warn players of such risks and promoted violent play that led to their injuries.[/ltr]
"Injuries are part of our game. Part of the challenge is for us to try to help Sid get healthy as quickly as possible, and that's what we're going to do."


[ltr]
The NHL upgraded its concussion policies for the upcoming season, giving spotters authority to remove players from the game if there are visible symptoms. That would not have helped Crosby in this situation.
Without Crosby, the Penguins will lean on centre Evgeni Malkin and winger Phil Kessel to make up for the loss in production. Sullivan isn't concerned about his captain's injury causing a leadership void.
Asked if it's possible that Crosby's concussion isn't that bad, Sullivan said yes. He said Crosby was not discouraged or frustrated by the news.
"It is what it is," Sullivan said. "Injuries are part of our game. Part of the challenge is for us to try to help Sid get healthy as quickly as possible, and that's what we're going to do. We don't look at it any other way. For me frustration at this point is a useless emotion."[/ltr]