Bitcoin falls below 16 thousand...and digital currencies plummet to 800 billion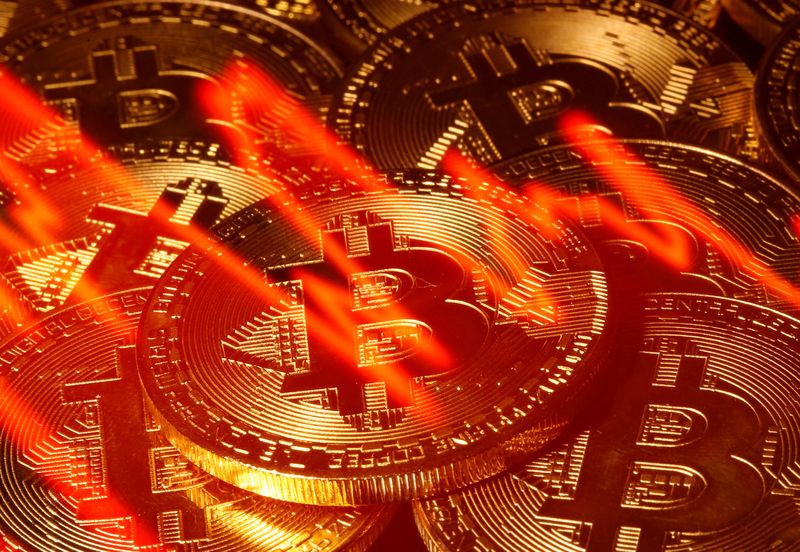 money and business
---
Economy News-Baghdad

Cryptocurrency losses widened during Monday's trading, before some of those losses were reduced, due to the ongoing repercussions of the collapse of the FTX exchange and currency, which renewed concerns about the stability of cryptocurrencies.
During these moments of trading today, Monday, the market value of the crypto market capitalization fell to levels close to $800 billion, to approach once again its lowest levels since January 2021.
And since the rumors of the collapse of the FTX platform poured in until the official announcement that the platform filed an urgent bankruptcy application to protect it from creditors, the losses of the digital currency market widened at a violent pace.
Within a week, the digital currency market capitalization recorded losses of around $270 billion, down from levels close to $1.07 trillion, prior to the collapse of FTX.
$2.53 trillion
According to CoinGeco data, cryptocurrencies recorded the highest capitalization level ever in early November 2021, when the market value at that time exceeded $3.3 trillion.
According to Monday's data, cryptocurrencies have lost nearly $2.53 trillion in value in a year, trading near $800 billion.
The return of dread
The fall of digital currencies and the violent decline of the largest cryptocurrency, Bitcoin, coincided with the return of feelings of panic and panic that had tightened its grip on crypto bulls, triggering frenzied selling waves for bears.
Meanwhile, the data of the Crypto Fear & Greed Index, which measures the psychology of dealers in the crypto market based on tracking bitcoin movements, recorded a violent decline.
During these moments of Monday's trading, the index recorded the lowest reading since trading on October 25 at levels of 22 points, compared to 40 points, the average reading of last week, which reveals a shift in the feelings of traders from fear to extreme fear.
A black week for the dollar and the revenge of gold
Bitcoin now
The losses of the first digital currency widened, and for a short time, the largest digital currency, Bitcoin, fell below the $16,000 levels, as the first currency was seen at $15.87,000.
However, Bitcoin succeeded in reducing a large part of its losses, to now trade at the highest levels of $16,000, reaching a price of $16.6 thousand, with a decline of 1.5%, after falling earlier today by 5%.
Urgent: cheap currency like a rocket 230%.. everyone falls
Bitcoin losses expanded within a year, to exceed $1 trillion, compared to its historical peak in November 2011, when it jumped to levels of $69.7 thousand, with a market value of close to $1.3 trillion.
The market value of Bitcoin is now $ 320 billion, while it is declining by 20% in a week, by 13% in a month, while Bitcoin has fallen by 30% in ninety days.
market now
On the other hand, from the declines of Bitcoin, Ethereum is now declining 100%, near the levels of 1.24 thousand dollars, while during the recent wave of the FTX collapse, it lost a quarter of its value, with a loss of 25%.
Binance Coin fell 2% to levels of $279, while its losses widened within a week, losing a fifth of its value, down 16%, as its market value fell to $44 billion.
Ripple has now fallen 5%, while it lost 27% of its value during the recent collapse, as it trades near $0.34 levels, with a market value near $17 billion, while it has decreased by 60% since the beginning of the year.
Dogecoin is declining 1%, while falling 25% in a week, with a market value of $11.5 billion, while hovering near $0.085 levels, as it still retains some of its gains from Musk's tweets, as it rises 45% in a month.
Cardano is down 2% during trading today, and by 20% in a week, Polygon Matic is down 1%, or 18% in a week, and Chiba Inu is down 2%, or 22% in a week.
While Solana decreased by 0.5%, while it lost nearly 55% during the week of the collapse, as its market value fell below $ 6 billion, and it ranked 13th among digital currencies.
The TronOX coin fell to levels of $0.05, down 7% during Sunday's trading, while it fell 21% in a week, with a market value of $4.5 billion.
On the other hand, the polka dot currency is hovering near levels of $5.7, down 2.2%, while the currency fell 15% during the week of the collapse, with a market value of $6.5 billion.
---
Views 

124
Added 

11/14/2022 - 10:57 AM
Updated 

11/14/2022 - 3:06 PM
https://economy-news.net/content.php?id=30788